By Samuel Oyadongha
Governor Seriake Dickson of Bayelsa State in this interview speaks on how he has been managing affairs of the state, the challenges he has faced and his plans to take the state to greater heights. Excerpts
Much has been said about the N14.5b  given back to the state by the Federal Government. What is the nature of this payment?
The N14.5b is a refund of excess deductions on account of World Bank, Paris Club and other loans that the federal government took and repaid.
Our federation is a very wonderful one where as state governors you just wait and at the end of the month they come up with whatever figures and throw them at you at the FAAC.
It was discovered that most of what they did at that time were not proper, they repaid with states and Local Government funds, and governors came  together to fight for what rightly belonged to their states.
This N14.5b was not given to Bayelsa only but to almost all the states of the federation. We have put out the figure as a result of our transparency policy. The money belongs to the state, and we are only privileged to manage the resources.
The civil servants have been very understanding in the last one year when we had to manage a very tough situation concerning our revenues. In January we almost didn't receive anything because of a combination of so many factors at the national level. For February, March, we were having between N1.5b to N2b for a state that has a wage bill of almost N5b not to talk of the Local Government level. The Local Government situation is very bad, and Bayelsa is one state that since we took over, we have not made any deduction from Local Government funds.
We only receive it on their behalf from the joint account and sit in the JAAC with them, and the following day it is released. Local Governments have financial autonomy; it is left for the leaders and the people to hold them accountable.
Community  development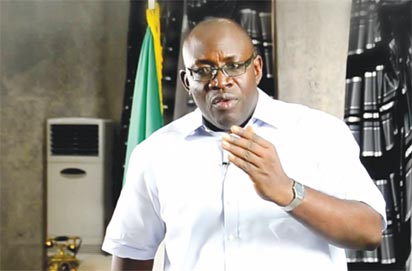 I am leading by example, and that is why I directed that the outstanding salaries (i.e. 50% of salaries for February and March) be paid before we step into next year since we do not know what next year will offer.
We do not want to step into next year with the backlog of these bills. Workers will have full salaries for two months (i.e., 50% for November and December and the outstanding 50% for February and March). Details and other clarifications will be made by the finance team.
What are the plans for rural development in your budget?
Your question on community development is very important. When in the course of electioneering campaigns, I went round this state I did  so not just because I was soliciting for votes but that opened my eyes to the realities of rural life and the challenges and the potentials, and so, in this current year, the Ministry of community development which we have created just to address these issues will be very active.
Almost all communities will be touched. Teams will go round to assess the real needs of the communities, starting from the small ones to the big ones.
There have been reported cases of cattle destroying crops belonging to local farmers in parts of Bayelsa State. What measures have you put in place to check this menace and prevent clashes between farmers and herdsmen?
We have been taking a lot of measures to prevent clashes from  occurring. Let me say we condemn the attitude of herdsmen who come into this state and carry their cattle to people's farms and destroy them and attack farmers and villagers. But part of what we have been doing quietly is to work with the security officials and the leaders of some of these elements and a lot of progress is being made.
Dangerous  weapon
I am aware of those instances, and I want to say that people should not take the law into their hands. We will not allow herdsmen to intimidate Bayelsa people. That will not happen under my watch; you can be sure of that.
And any herdsman who is armed with any dangerous weapon will be promptly dealt with according to the law. We have decided that we will open up ranches where people will be engaged in animal husbandry.
But in the interim we have directed that no cattle should be seen roaming around Yenagoa again, it is a very dangerous trend. We have given them a temporary place, i.e., the Bayelsa Palm.
What successes have been recorded in the area of sports for the year and what are the plans for the future?
You are already aware of what is going on in the Samson Siasia Sports Stadium, and they will finish work latest January. In 2017, there will be a lot of talent hunting.
I have just appointed a renowned UK based sports development expert to work with us on developing young sporting talents. We will be making more investments in the sports academy, and I will be making appointments concerning the administration of the sports academy.
That place can take students now. The aim is to put in world class facilities and the consultant we have appointed has the capacity to identify talent, get sponsorships bring coaches to work with our local coaches.
In the next Olympics in four years, our dream is to have Bayelsans win medals. The sports academy will admit its first set of students in January hopefully. A lot of facilities are set.  So the future for sports development is bright. By the way, our sporting teams are doing very well; I want to use this opportunity to congratulate our female team that narrowly missed the gold medal. I will be hosting them very soon.
Talking about the plans you have for the entrepreneurship scheme, how do you intend to boost the entrepreneurship capacity of the youths?
At the completion of the re-organisation of the civil service, we will employ several qualified, trainable young people with relevant skills and qualifications in relevant areas.
The studies we have conducted and the data we have developed in the last five years is this; with all this bloated public service roll we have, there is a critical lack of qualified manpower in sensitive areas.
I have been employing and approving employment of doctors given more health care facilities coming on stream.
Medical excellence
Bayelsa by our dream is going to be a centre of medical excellence and research. A lot of vacancies will be created for pharmacists; we have very few pharmacists in this state, few lab technicians and other medical professionals Bayelsans should get ready for more employment that is those who want a career in the civil service, not those who want o be employed and stay at home expecting to collect money.
This second term consolidation mandate is a duty I owe this state. I will sanitize this state in all the critical areas so that anyone who comes after me will meet a saner system, a more disciplined system. We need teachers who would be in the class room.
I want to use this opportunity again after thanking God to thank the good people of our state for the mandate, the support, the encouragement, and the prayers that you have encouraged us with.
No doubt we have gone through a trying year, even politically but we won through it all. It is our expectation that 2017 will be a better year of greater peace, stability.
I just want to add that for us; elections are over, and we should all work as members of one Bayelsa Ijaw family, support and encourage one another. I hope and pray that 2017 will bring greater blessings.