By Lawani Mikairu
LAGOS — Airline Operators of Nigeria, AON, yesterday decried deplorable state of navigational aids at airports in the country.
Chairman of AON, Capt. Noggie Meggisson, made this known in a statement  in Lagos.
Meggisson said the situation had made flying in the Nigerian airspace difficult during the harmattan, resulting in flight cancellations.
According to him, this has increased the sufferings of passengers and disrupted their plans for the festive season.
He noted that exactly 48 years today, on December 28, 1968, the first aircraft operated at CAT lll and landed in zero visibility at Heathrow airport, yet Nigeria was unable to land aircraft with visibility of about 800 metres.
Meggisson said: "Most international and local flights had to be diverted to Cotonou yesterday, which is rather unfortunate. The issue of the harmattan haze is a yearly seasonal occurrence as Nigeria has mainly rainy (thunderstorms) and dry seasons (harmattan).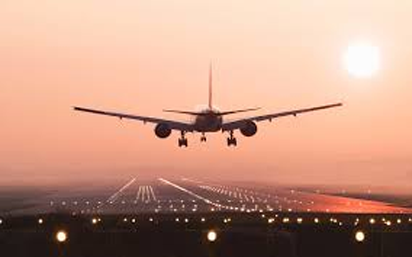 "If the world has been landing in zero or virtually no visibility since December 28, 1968, today 48 years later, Nigeria still can't land with 800 metres of visibility?
"Why are the navigation aids not working or upgraded over the years? Why is there no solution to this issue after 40 years of the airlines crying out?
"It is rather shameful that today in the 21st Century, we are still talking of operating at CAT l and unable to land at 800 metres at our airports."
According to him, for the past three days, the Murtala Muhammed Airport, Lagos, was shut down until 6 pm before flights could land.
He said consequently, no airline could fly and passengers were delayed with colossal loss of revenue to the operators.
"A Dana Air flight that departed Abuja at 10 am could not land in Lagos and had to return to Abuja until 6pm before flying back, again still leaving about 500 to 600 passengers to various destinations stranded at the airport.
"This is very unfair to operators who cannot charge passengers for the extra cost the airline has to bear on return or cancelled flights and we have to feed and lodge them in a hotel," Meggisson said.
He charged the Nigerian Airspace Management Agency, NAMA and the Federal Airports Authority of Nigeria, FAAN, to ensure that the airports were equipped with the right landing aids to allow 24hours operations in any weather condition.
Visibility drops to 500 metres, as NCAA warns pilots
Meanwhile, as the weather condition gets worse due to current harmattan haze and visibility dropping to 500 metres instead of 800 metres minima recommended for flights in Nigeria, the Nigeria Civil Aviation Authority, NCAA, yesterday, warned pilots and airlines not to embark on any trip, if the prevailing weather did not improve.
NCAA General Manager, Public Relations, Mr Sam Adurogboye, said airlines knew what to do when visibility was poor, adding that it would be against the interest of safety for any pilot to initiate any flight when it was below the approved weather minima for the airport.
There had been cancellations and delays of flights by many airlines as the harmattan haze intensified in recent days, getting many passengers stranded at airports across the country.
Adurogboye confirmed that poor visibility had huge economic toll on airlines, but noted that it was not enough reason for any pilot to violate the prescribed weather regulations.
He said: "The weather has been poor. Once it is below the approved weather minima for each airport, it is no-go at all."
NCAA had earlier issued an advisory circular to pilots about the hazards associated with harmattan dust haze prevalent in some parts of the country. It was part of its resolve to ensure safe flight operations in Nigeria's airspace and annual guidance to help prevent incidents or accidents caused by such weather-related occurrences.
According to Adurogboye, the circular was in line with the forecast earlier made by NIMET, which indicated the occurrence of moderate to severe outbreaks of dust during the period of November 2016 – March 2017, predicting that it would on many occasions reduce horizontal visibility significantly.