By Theodore Opara
The corps marshal of the Federal Road Safety Corps, Dr Baboye Oyeyemi has expressed displeasure over the incessant road crashes involving tankers on the nations high ways and called on the Nigerian Union of Petroleum and Natural Gas Workers/Petroleum Tanker Drivers to halt the urgly trend.
Dr Oyeyemi, visited the Chairman of the Nigerian Union of Petroleum and Natural Gas Workers/Petroleum Tanker Drivers (NUPENG-PTD) in Abuja to register the concerns of the Corps and that of Government over the unwarranted loss of lives, loss of properties and damage to roads and the highways.
The Corps Marshal at the  meeting with NUPENG-PTD, expressed his concerns that in the past two and a half weeks about 11 tankers have been involved in crashes; hence, he called on the two organizations to have a joint decision to halt the trend.
According to the Corps Marshal "most tankers do not have valves and whenever they fall, there is spillage of fuel and a resultant inferno occurs". He stressed that it is against this backdrop the Corps  has ordered the impoundments of any tanker without valves plying the Nigerian roads.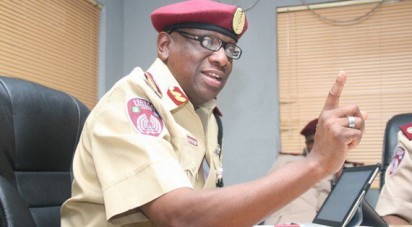 He also used the occasion to advise NUPENG-PTD on maintenance of their articulated vehicles, and as well ridding the roads of rickety tankers engaged in the business of transporting petroleum products.
In his response, the Chairman of NUPENG-PTD, Otunba Salmon Oladiti thanked the Corps Marshal for the respect he has for the Union and enduring willingness to consult with the Union rather than wielding the big stick.
He revealed that on his part as the Chairman of the Union, he has devoted time to talk   with the drivers, training them, and dissuading them from engaging in night journeys and other vices. He added that the Union has engaged Consultants in the past and equally set up task force to arrest recalcitrant tanker drivers.
To this end, he promised his readiness to partner FRSC to stem road carnage, and expressed his delight that the training and retraining of tanker drivers will start all over again in January. He used the occasion to invite the Corps Marshal to their next National Executive Committee (NEC) to talk to them on how best to use the highways and how to avoid crashes.
The Chairman gave thumbs up to the FRSC for the large deployment of men to Nigerian roads and advised the Corps Marshal   to talk to Construction Companies to place adequate diversion signs around construction sites to help stem road carnages.
Otunba Salmon used the opportunity to send a word of appeal to the Federal Government to assist his Union and the National Association of Road Transport Owners (NARTO) in granting soft loans to fund replacement of rickety articulated vehicles plying the roads, as the recession has made it quite difficult for transport operators to fund the replacement on their own.