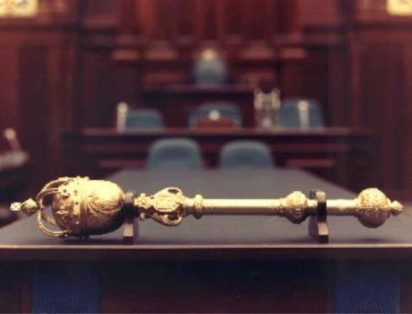 Assembly Mace
By Dennis Agbo
ENUGU—ENUGU State House of Assembly, ESHA, Tuesday passed the Bill for the regulation of outdoor structures for the display of signage, hoarding and advertisement in Enugu State and for other connected purposes into law.
Thus, outdoor advertising would be regulated to ensure environmental aesthetics of the state and also yield revenue for the state.
Members of the House passed the Bill after dissolving into a committee of the whole House, following a report of the joint House Committee on Local Government, Inter-Parliamentary and ENSIEC Matters, Public Petitions, Ethics and Privileges, Information, Petroleum Resources and Environmental Management and Enugu Capital Territory Development Authority submitted to the House after conducting public hearing on the bill.
House Committee Chairman on Local Government, Iloabuchi Aniagu, who presented the report of the joint committee before its passage, said that stakeholders who spoke on the merits of the Bill, opined that proper implementation of the law would improve Internally Generated Revenue, IGR, of the state.
After going through the Bill item by item, it was eventually passed into law.
Speaker of the House, Hon. Edward Ubosi, thanked his colleagues for their contributions during the debate and in supporting the report of the joint committee.