By Chioma Onuegbu & Dennis Udoma
Uyo—Governor Udom Emmanuel of Akwa Ibom State has blamed the collapsed Reigners Bible Church Int'l building penultimate Saturday on human error.
Emmanuel, in his welcome address at the 2016 Akwa Ibom Christmas Carol held at Uyo Township Stadium, weekend, expressed sadness that such tragedy befell the state at a time when it should be celebrating the season of Christmas.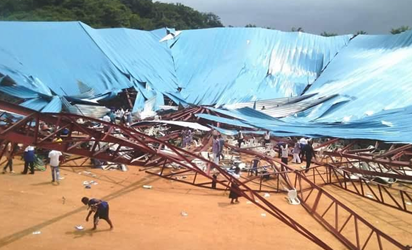 He said: "Tonight has been long in the making. Long hours of intense labour and details went into the making of this event. We had a programme of action. We went over all the details several times. We checked and rechecked the details. We dotted the 'I's and crossed the 'T's. We planned for everything and every checklist was acted upon and we said to ourselves:
We are ready to roll. What we did not, however, plan for was death in the Akwa Ibom family.
"Unfortunately, instead of the usual celebration of our hospitality, our Christian bonds and affection, our beautiful and world class infrastructural amenities, death has become the major theme in today's narrative in our state.
"On December 10, the Reigners' Bible Church located on Uyo Village Road collapsed during an ordination service where I was present as the Special Guest of Honour.
"The collapse of the building was man's error and that was why we set up a high-powered panel of inquiry to determine what went wrong. We have not fully recovered from the shock but let us say that it was a tragedy which was man's handiwork not God's promise.
"We are still standing on God's promises. On Christ the solid rock, we still stand.
"This, however, should serve as a reminder of God's faithfulness. Ever since He created the sun and put it there, we have never had a blackout. The sun has never run out of gas."
The governor said he believed that it was God that actually made him to be at the church on that occasion in order to save lives.
He pointed out that the casualty figure would have been higher if he had not been present to supervise the rescue team that acted promptly.
"Many have sympathized with me or questioned me for going to the church. But I am happy that I was there. The footsteps of the righteous are ordered by God and He took me there to save lives.
"My conviction and belief is that every Akwa Ibom life matters and we must do all we can to save lives. I believe that if I had not been there personally to supervise the rescue efforts and mobilize the best possible network of medical experts and rescue workers, the casualties would have been a lot more."