By Gabriel Enogholase
BENIN—GOVERNOR  Godwin Obaseki of Edo State has presented a budget proposal  of N150,011,831,079 for the 2017 fiscal year to the state House of Assembly for its consideration.
The budget estimate is a 29 percent increase over 2016 budget which stood at N115, 913,642,987.
Presenting the budget proposal yesterday, in Benin, Governor Obaseki said that the estimate, titled 'Budget of Consolidation and Prosperity,' is made up of N74,900,297,917 for Recurrent Expenditure and N75,111,533,162 for Capital Expenditure.
He told the legislators that the 2017 revenue estimates are based on a $42 bench mark for crude oil and average daily production of 1.9 million barrels per day and expectations of improved performance of Internally Generated Revenue, IGR.
"Hence we will maintain a balance of capital to recurrent expenditure (50%: 50%) in line with our plan to spend our way  out of recession," he said.
The governor further stated that the budget would have a deficit of N25 billion for 2017, which he said was within the acceptable threshold, adding that the deficit will be funded mainly from external borrowing from the third tranche of the World Bank budget support facility.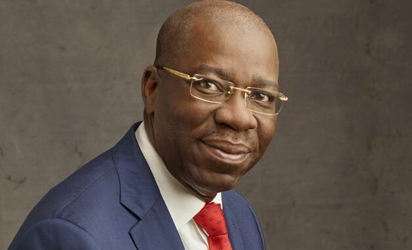 He said: "Edo State Government's priorities in 2017 will include a continuation of ongoing infrastructural projects from 2016 plans. It will include institutional reforms to better prepare the civil service for optimal service delivery. In this regard, we will revamp the working environment of public officers, emphasize training and seek to improve the incentive structure.
"Specifically, the secretariat buildings will be renovated and government offices will be relocated along the secretariat axis. We will also build a new central administrative building in Government House. We are convinced that a conducive work environment will help revolutionise service delivery to the people and increase returns due to government.
"In order to achieve our promise of a minimum of 200,000 jobs within four years, our job creation strategy through series of outlined programmes include partnering private identified sector investors to recruit and offer training to out-growers and anchor farmers in specific crops where we have secured off takers.
"Revamp the Benin Technical College and several other technical and vocational training schools across Edo State and linking these schools under the TVET arrangements to private businesses and industry. We will invest significantly in human capital development of our teachers, civil servants and health workers.
"In this budget, we are paying greater attention to law, order and security, through more allocation to the judiciary and implementing an Edo State security plan which will involve community policing."
Obaseki  said that in 2017, the government will engage in robust budget reforms to ensure better budget monitoring and implementation, adding that his administration would explore and prepare for zero budgeting policy to align its developmental aspiration within the budget and planning mechanism.