By Soni Daniel, Northern Region Editor
Ninety-six hours after the Department of State Services, DSS, had used a 'security report' to stall the confirmation of Ibrahim Magu as the substantive chairman of  Economic and Financial Crimes Commission, EFCC, documents emerged last night to prove that the security agency lied in many respects against him.
Documents obtained by Vanguard showed that contrary to the DSS report that a businessman, Umar Mohammed, a retired Air Force officer, paid for and furnished Magu's mansion, the acting EFCC Chairman actually lives in a rented apartment officially paid for and furnished by the Federal Capital Territory Administration, FCTA, which is statutorily mandated to do so for all senior government officials, including those of the Senate and the House of Representatives.
Vanguard was told by top officials last night that most top government functionaries, including the NASS, had also been given similar accommodations by the agency while others who are staying in their personal houses, had demanded and collected cash in respect of rent and furniture.
Findings by our correspondent shows that the Abuja Metropolitan Management Council, AMMC, awarded the contract for the two-year rent and furnishing of the house to an Abuja-based company, Valcour SA Nigeria Limited, on March 30, 2016 at the total cost of N43.8 million with a six-week period to complete the job.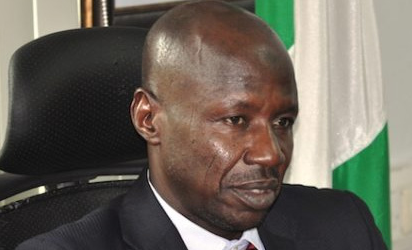 Out of the amount, N28 million was meant for two years' rent (N14 million per annum), while the balance of N15.8 million was meant for furnishing.
The offer letter with ref. No. AMMC/Adm/907 and dated March 30, 2016, was signed by Ibrahim Ibrahim Gusau, the Secretary of the Tenders Board with the caption, Provisional Award of contract for rent of residential accommodation and furnishing for security operatives.
It was addressed to M/S Valcour SA Ltd, 8, Kainji Street, Maitama, Abuja.
Meanwhile, speculations have been rife that since the day of Magu's rejection by the Senate, he had made several attempts to meet with President Buhari but was blocked.
Contacted last night to state the Presidency's position on both men, highly placed sources told Vanguard that official pronouncements were still being awaited.
While a source said "no information yet", another said, "we are trying to get something out."
Though it was uncertain what is likely to be the next move of the President, Vanguard learned that the Presidential Villa is momentarily piqued by the "disgusting" developments which many say run at variance with the anti-corruption posture of President Buhari.