By LAWANI MIKAIRU
Med-View Airline top management, led by the Managing Director, Alhaji Muneer Bankole, held interactive session in Lagos with passengers whose baggage were left behind in Gatwick Airport, London last week Thursday and assured them that the last batch of the luggage will arrive today, Saturday, adding that the first batch arrived yesterday aboard British Airways on special arrangement made by Med-View Airline.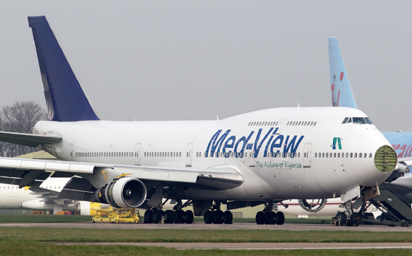 The interactive session afforded the aggrieved passengers the opportunity to bear their grievances to the management of Medview Airline who assured them that all outstanding baggage issue will be sorted out. The passengers had arrived the Lagos Airport from their homes in Lagos only to be told later by the Medview management that not all the passengers will get their luggage as some were still in the united kingdom.
Explaining the situation, the Managing Director , Alhaji Muneer Bankole told the aggrieved passengers that as at 1am on this Thursday, he got a call stating that all the leftover baggage were loaded and ready for shipping back to the country, only for him to be told that due to weight and safety, the captain ordered some baggage removed.
Bankole however assured them that ," On Tuesday, by God's grace we will no longer be talking about this baggage issues. It will be a thing of the past. We are truly sorry for the inconvenience and this is the first time we are having such an issue and we apologize although there are so many extraneous factors."
"British Airways will bring some of the baggage back tomorrow evening ( Friday). A team headed by Mr. Michael Animotosun who is head of ground operations who is leading the team, are in contact with British Airways and have given them some of the baggage. Tomorrow morning they are moving the bags to preservation, Medview airlines will leave again tomorrow; we will be coming with some baggage and British Airways assures on Saturday they are bringing the second and last one so we are sure everybody here will get their luggage. Again we apologize for the stress."
"I am so sorry people I feel bad I am ready to take responsibility but I am telling you Medview is our own," Bankole added.
A passenger who spoke advised the airline to work on communication so that passengers will be duly informed so as not to resort to violent tactics stating that the issue with the baggage had dragged on for a long time, which could cause people to lose their valuables
Recall the airline had blamed Gatwick Airport, UK, baggage handlers for its inability to airlift back to Nigeria left over baggage of passengers who boarded the airline in UK.
According to the Media Consultant to Med-View, Chief Obuke Oyibotha ," Med-View Airline special flight dispatched to London on Saturday ( last week) to airlift left over baggage returned without the affected baggage following the inability of Gatwick Airport authorities to screen them".