As news reports of alleged corruption creeping into the inner cabinet of President Muhammadu Buhari (which has been swirling for months) grew to a crescendo last week, he finally ordered the Attorney General of the Federation (AGF), Abubakar Malami, to probe all his officials implicated in corrupt practices.
The President's Chief of Staff, Abba Kyari, in October this year, was accused of alleged helping a telecommunications operator to reduce the heavy penalty placed on the firm for flouting industry rules and putting Nigeria's security at risk. Only last week,the senate also called on President Buhari to sack the Secretary to the Government of the Federation (SGF) Mr David Babachir Lawal, over alleged corrupt enrichment of a company he was linked to through awards of bogus contracts under the Presidential Initiative on the North East (PINE) superintended by his office.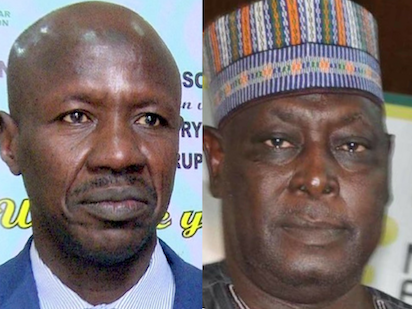 It came at a time the Senate declined to confirm the appointment of Acting Chairman of the Economic and Financial Crimes Commission (EFCC), Mr Ibrahim Magu, ostensibly based on a letter from the State Security Services (SSS) accusing Magu of living in corruption, which sources close to the anti-corruption czar have denied. These are just some of the rumours and reports of alleged corruption confronting a Federal Government which has war on corruption as one of its three cardinal agenda.
Most well-meaning Nigerians have openly thrown their full weight behind the President's war on corruption, particularly the recovery of alleged stolen public funds by some officials of the immediate past administration. This campaign had been extended to the National Assembly leadership, as well as the Judiciary whereby some judges' homes were raided by security agencies. They have been arraigned and their jobs as presiding judges suspended.
Though we welcome the President's resolve to probe his suspected officials, we think he should thoroughly probe these officials mentioned. For the credibility of the war on corruption to be maintained, there should be no sacred cows or maliciously marked targets. We expect zero tolerance to corruption within the Buhari government. Credibility is the fuel that will drive the anti-corruption campaign to success.
The President, who still enjoys some credibility on his anti-corruption stance, should not wait to be pressured by public opinion before he cleans up his stable.
He must bear in mind that corrupt individuals in his government, no matter how close they are to him, are great political burdens to him and the ruling All Progressives Congress (APC). Protecting them from prosecution will not represent the change Nigerians were promised.