By Daud Olatunji, Abeokuta
Ogun State governor, Senator Ibikunle Amosun has revealed that seven persons have shown interest to become governor of the state in 2019, saying no quality of a would-be-governor in any of them.
The governor boasted: "Although, I do not know yet who will succeed me come May 29, 2019, I certainly know those who won't be governor in Ogun State."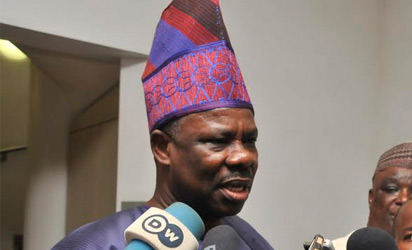 Amosun who said this yesterday in Abeokuta at the APC, Ogun State members of National Assembly caucus meeting added that the seven aspirants are simply wasting their time and resources.
The governor however, denied disparaging the leader of the All Progressives Congress and a former governor of Lagos State, Asiwaju Bola Tinubu.
In the meeting which attracted state APC executive council, the governor noted that Tinubu had stood by him when he needed him, and he would continue to defer to him.
The governor was obviously reacting to an alledged audio revelation emanating from a group within the party believed to bé loyal to a governorship aspirant which has gone viral on the social media.
In the allegedly audio recording of a meeting held early in the week, the governor was said to have disparaged Asiwaju Bola Tinubu and allegedly hinted on how he (Tinubu) would bé disgraced before 2019.
While refuting disparaging the APC national leader, Amosun said ,"What happened was that we wanted to have a parliamentary caucus. And we said we would be having it quarterly but we discovered that our commissioners were not there and the elders of the party too must be there.
"It wasn't our normal meeting it was just the parliamentary caucus meeting.
"Well, but for me we should be happy, that some people are afraid of whatever we do and that is why they are running helter skelter.
"If there are cowards or traitors somewhere trying to record or do any other thing,those people can not do anything.
"But let me say this and I have been saying it all the time, that we might not be able to say clearly now who becomes the next governor but we know those who will not be governor.
The governor while denying the allegations that he used the state money to fund Ondo election, said "In Ondo, we have won, we will continue to win. If they have money, let them keep it, when there is time for us to spend money, we will spend very well for our people, we will go round and say this is it and this is what we want to do, we are no cowards, we will spend money, we will not steal money, don't bother yourself that they are writing this, they are writing that.
"They told me there are three candidates, if they don't know I will tell them, people that have told me they want to be Governor are now seven and I know that all of those seven, no Governor there, the ones that can be Governor, when the time comes, we will tell our people.
"I know that they don't have responsibilities for governance, don't let them distract us because they mention it and I am here in person that is why I am just saying that so they should be ready, even all our people whether state Assembly, whether members of the House of Representatives, senators, if you want to be something, when the time comes we will know," Amosun said.