Former Secretary General of Commonwealth, Chief Emeka Anyaoku, has called for the re-structuring of the country, saying the 36 states' structure should be scrapped and replaced with the six zones as federating units.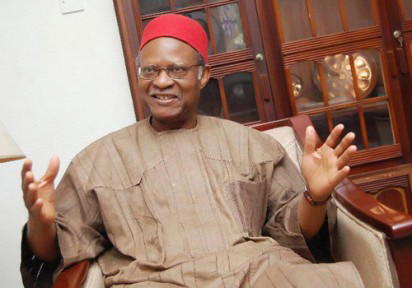 Chief Anyaoku, a one-time minister of External Affairs, in his New Year message released to journalists blamed the poor federal structure for the country's underperformance.
Anyaoku urged the Eighth National Assembly to extend its Constitution amendment towards economic restructuring and efficient deployment of human and material resources saying the 36 states should be realigned along productive political and economic lines.
Anyaoku said: "It should deal with the root cause of the country's continuing underperformance through deploying its rich human and material resources more efficiently.
"This calls for a rearrangement of the number and nature of the federating units of the Nigerian federation from the existing 36 wasteful and non-viable units to much more politically and economically viable six units.
"Let this be the main contribution by the Presidency and the National Assembly to the nation's progress in the New Year.
"Nigeria has clearly failed to meet the hopes and expectations of its citizens in 2016.
"This fact has been acknowledged by President Muhammadu Buhari, who is promising an improvement in the welfare of the people through the budget for 2017.
"I believe that the optimistic prospect will be considerably increased if the existing national architecture of governance, which remains the greatest drawback to the nation's political stability and pace of development, is restructured.
"The National Assembly must not stop at tinkering with the edges during Constitution amendment."