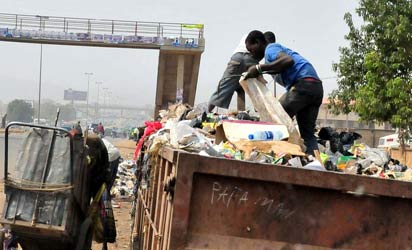 By Chiamaka Ajeamo, Abuja
At the mention of  scavenger, the  thing that readily comes to mind is an animal such as a vulture or any other creative that feeds  on dead organic matters or wastes. Well, you are  wrong.
A scavenger is also a person who picks items from dumpsites, waste  bins, junks or garbage for purposes like recycling, personal consumption or for sale. Many terms are used to refer to these people. These include rag picker, forager, poacher, waste-picker, salvager or scavenger.
Customarily, waste bins or dump sites are the end points for wastes and are perceived as no-go areas for humans because of their  foul and dirty nature.
However, throughout the big cities in Nigeria such as Abuja, Lagos, Kano, Port-Harcourt, Benin-City, Ibadan, Asaba, dumpsites and waste bins are increasingly transforming into goldmines as youths and old men depend for their livelihood on  what they gather at the dumpsites.
According to Mustapha Muktar, a lecturer at the Department of Economics, Bayero University, Kano, these people are commonly referred to as 'Baban Bola' in Abuja and northern states, and they recover materials from waste streams to sell for reuse or recycling as well as for their own use.
Scavengers are not refuse workers and they are not concerned with waste management. They enter into the trade for socio-economic reasons, and their relationship with waste is as a resource, they only collect the materials for which there is a market to sell them.
Moving from one street or dumpsite to another, you will see them with their sticks and big sack bag hanging on their shoulders, scouting for items. At first, when you see them wandering, you would think they are mentally deranged because of their appearance, but a closer look at them would convince you that they are some human beings seeking ways to survive the hard economic situation in the country.
In the quest to earn an income for their survival and that of their families in this harsh economic  situation, these people enter the streets and dumpsites during the early part of the day, roving and looking for used and discarded items such as bottles, aluminium sheets, steel, electronics, plastic products, metals, clothes, copper wires and any useful material that will be profitable to them.
In the process of scouting for items, they use sticks for scavenging for any hidden treasure beneath trashes, and any identified material, despite its dirt, is quickly stored away in their sacks.
After gathering the items from the dumps, they take  them  home, wash  and take them to the market for buyers. Sometimes, the buyers come to them.
Muktar also noted that scavenging has effects on the health of the scavengers, such as   eye irritation; respiratory diseases like  coughing, sneezing; skin diseases, especially scabies; minor injuries from stepping on broken bottles or sharp objects in the refuse; headaches from walking in the sun; and backaches from bending down most of the time.
In the streets and dumpsites of Abuja, many scavengers abound, both young and old, who  scout  for items that are useful and can be sold to market women, men and recyclers.   Despite the challenges encountered in this job, such as health hazards and insults received from  members of the society, some of them like the job and prefer to do it than going into armed robbery as they said it puts food on the table for them and their loved ones.
A scavenger, Mohammed Fausit, who was seen at a waste bin  in Minna Street, Garki, Abuja, told  Sunday Vanguard he had been on the job for three years now. He came from Kano to Abuja to continue the job. He likes the job and makes enough money to survive and take care of his brothers.
"I came from Kano to continue this job in Abuja. I like the job, it provides for me and my brothers instead of stealing. I do not want to steal though, I see my mates do better jobs,"Fausit said..
"I pick cans, rubbers, metals, bottles, aluminium and other items and sell them with my brothers after washing or cleaning them.
"I sell my items in the market to people that sell kerosene, palm oil, groundnut oil, zobo and other local drinks.
"How much I make a day depends on how much items I gather;  sometimes I make N500, sometimes N700 or even N 1,000 but, in a month, I can get up to N15,000 or even  N20,000. The money is okay for me and my brothers to feed and take care of ourselves.
"Sometime, when I pick these items from dust bins, I see money and other valuable items for my own use. Some times last year, I picked  N25,000 from the waste bin. I was very happy.   The challenge I face in this job is injury; if you  see my finger, it is as a result of picking these items, a metal cut  the finger but then, I still do it."
Another scavenger, Muhammadu Abubakar , an old man sighted at Ilorin  Street, said he started the job since 2003. He married  doing the job, built  a house  doing the job and is raising eight children still doing the job.
He stated that he had faced many  challenges on the job but  continued  doing it because of lack of employment in the country.
His words: "I started this job since the second tenure of Obasanjo (2003). I married doing this job, built my house  doing this job and still feeding my family doing this job. I went to an Islamic school   but I am not happy when I see my mates doing better jobs while I scavenge. I always wish I have  a better job but, in a condition where there is no job in the country, one has to manage with what  he has and this is what I can do.
"I pick rubbers, bottles, metals and  sell. In  a day, I can make N200 or more. One kilogram of metal is N20, one kilogram of rubber N80. I make up to N7,000 to N8,000 in a month.
"The challenge I face in this job is that some people sometimes accuse me of stealing. There was a day I was accused of stealing a generator where I went to pick things. I was even interrogated by a police man. But  because I do not have any other job, I continue to do this job so that I can feed and provide for my family."
To another scavenger who refused to disclose his name in Garki market, the job is risky and full of challenges. He said he was not educated, has no house and family and he is only into the business to make ends meet. He said people do not respect him and see him as a thief but he does the job because he has the right to earn a living.
"I will leave this job even to be a gateman because it is risky and people do not respect me as they see me as a thief;  some of them even keep an eye on me whenever I am doing my job. It is bad, I feel I have a right to earn a living,"he told Sunday Vanguard.
"I do not have a house or a family. I am working to get food and make a living; it is better than stealing. I did not go to school, so I cannot get an office job.
"I get almost N5,000, mostly in a month but If  I have many plastic bottles, I can  get N8,000 but the job is risky. If I get another job, I will leave it."
Speaking in the same vein, another one spotted at Nyanya market said he makes N5,000 in a month but detests the job because of the stigma  as people disregard him.
He said, "I hate this job because people  see me as a thief or a spy. And they mostly chase me away from their homes when I am searching for discarded items.
"I feel very bad and shy of the job but I have no other job. I feel bad when I see my age mates  or even people younger than me in big cars and working in offices."
Meanwhile, the activities of waste pickers in Nigeria are dogged by misconception and disregard.   However, it is an honest job which a lot of people survive on and prefer to engage in instead of indulging in nefarious acts such as armed robbery and terrorism.
Though perceived as a survivalist strategy form of trade, the apparent contribution of these operators to  solid waste management cannot be overemphasized.