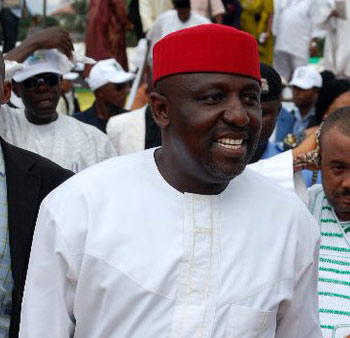 Rochas Okorocha
By Chinonso Alozie, Owerri
Governor Rochas Okorocha of Imo State, rural road rehabilitation and construction have started in the state with some communities yet to resolve their differences.
In some Local Government Areas, such as Ahiazu Mbaise and Isu LGA, work have started in those areas, while in some places one of which is Owerri West Local Government Area, political leaders were yet to resolve among themselves which of the road to commence work due to divergent interest.
The disagreement started when people of Owerri West, refused to accept the presentation made by the Commissioner for Community Government Council, Hon Innocent Eke during a meeting with the State Development Council members with the Governor in the State.
A situation which prompted the Governor to ask him to go and resolve the differences he had with his people.
However, the Commissioner for Commerce and Industry , Mr Chidi Ibe while commissioning rural road construction in Ahiazu Mbaise, warned that the traditional rulers should not influence decisions over which road to work on.
He said, " With the release of money by the government for rural roads, our communities will never be the same" adding " Our brothers who are coming back for Christmas will have motorable roads to drive their cars ."