•More females, compared to males, are becoming positive to virus – Dr Ezechi, researcher
By Chioma Obinna
Will Nigerian mothers, sisters and daughters survive amidq the  conspiracy of nature, man, culture and, of late, the increasing cases of Human Immune Virus  Deficiency Syndrome (HIV)?  According to  a  researcher and consultant obstetrician gynaecologist, Dr Oliver Chukwujekwu Ezechi, there are increasing cases of HIV infection in Nigerian female gender than men and, unless stakeholders take proactive measures, the dream of a free HIV generation may be a mirage.
Ezechi,  Deputy Research Director, Nigerian Institute of Medical Research, NIMR, who, for more than a decade, devoted a large percentage of his time researching and providing services for women and those living with HIV, said  the deadly virus' infection in female population has continued to increase and presently women constitute about 60 percent of HIV positive population, while the risk of a woman contracting HIV is  two to four times higher than that of a man.
According to the researcher, findings were based on 12 years of research at the HIV Testing Service of the institute.
Ezechi, who expressed disappointment that issues of women are always relegated to the background and do not occupy pride of place in most endeavours in this part of the world, said  more disturbing is the geometrical increase of the infection among the female population.
To him,  the scourge is an issue beyond the women, but a conspiracy of nature, culture and man.
In his lecture titled:  'That She May Survive, And Bring Forth An AIDS  Free Generation', at the 6th Distinguished Lecture of the  NIMR, he said to ensure that women, mothers, sisters and daughters survive, to bring forth HIV free children, governments at all levels,  must strategically plot against the conspiracy of nature, culture and man.
HIV, a complex and chronic disease, first described among men that have sex with men (MSM) in the United States of America, is now wearing a woman's face.
"The Nigerian HIV epidemic is also feminized. The burden is higher for women than men across all age groups except those aged 35 – 44 years.  In both urban and rural areas, HIV prevalence is consistently higher among females when compared to males,"the researcher stated.
"A review of the over 11 years of meticulously collected data at the HIV treatment centre, NIMR, attests to the feminisation of the epidemic in Nigeria.  The proportion of female enrolees among the clinic population increased steadily from 60.2 percent in 2004 to 68.6 percent in 2015.   Out of as total of 23,734 patients at the centre, 8,125 are men while 15,609 were all female."
Further, he posited that the reported feminisation of HIV/AIDS globally, nationally and at the site level is not because women are more promiscuous than men but due to the conspiracy of nature, culture and man.
"During penile-vaginal intercourse, a woman's body is physically more susceptible to HIV infection than a man. In other words, it is easier for a man to transmit HIV to a woman than it is for a woman to transmit HIV to a man. The risk of a woman contracting HIV is 2 to 4 times higher than that of a man.
"To ensure that our mothers, sisters and daughters survive, to bring forth an AIDS free generation, we must strategically plot against the conspiracy of nature, culture and man. This should be done through conscious effort to educate women to not only delay age at coitarche but empower them to be self-sufficient, institutionalise laws that delay the age at marriage, abhors and prevent violence against women, as well make life-saving ARV drugs accessible and affordable to women and their families".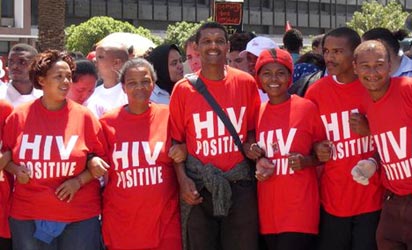 Overlooked emergency
Ezechi, who also looked at demographic and clinical characteristics of women living with HIV/AIDS, recalled that  two researchers, Drs. Abdusalami Nasidi and Tekena Harry, who, in 1986, reported the first case of HIV/AIDS in NMIR, warned of the devastating consequences if nothing was done, regretted that their warning was ignored.
"The HIV prevalence thus increased exponentially from 1.8 percent in 1991 to a peak of 5.8 percent in 2001. The HIV infection in female population continued to increase and presently women constitute about 60 percent of HIV positive population.  In our study titled, 'Epidemiologic and clinical characteristics of pregnant women living with HIV/AIDS in South-western Nigeria', of the 23,004 PLHIVs seen over a period of 10 years and six months, women constituted the majority
The implications of the above findings are far reaching. Late presentation will not give sufficient time for HIV viral suppression which is the most important determinant of Mother- to –Child- Transmission, MTCT".
Message of hope
He, however, noted that all hope is not lost if the active PMTCT strategy of ensuring that all pregnant HIV positive women are commenced on life saving Highly Active Anti-Retroviral Therapy, HAART, the same day they are seen for the first time, is adopted nationally. With that, the researcher stated, Nigeria  will be able to reduce MTCT rate to less than 1 percent.
Transmission of HIV infection
"Among our HIV cohorts, 79.4 percent identified heterosexual intercourse as the possible route of acquisition of their infection; with 64.0 percent of them being legally married. Only 4.5 percent and 1.4 percent respectively reported blood transfusion and anal sex as their possible route of infection. Thus the majority of HIV infections in Nigeria are due to HIV transmission within the general population, mainly within a subpopulation of cohabiting or married couples", he said.
Stating that majority of HIV infections in Nigeria were due to HIV transmission within the general population, mainly within a subpopulation of cohabiting or married couples, Ezeechi noted that findings in one  study revealed that HIV transmission in the South-West is from women to men.
"We studied 4,435 HIV positive pregnant women to determine their spouses' HIV status; over two thirds of the partners of these women were HIV negative. Women with past history of multiple sexual partnership and induced abortion were most at risk,"the researcher stated.
"The lesson here is that the general perception that men only are always the index cases is not supported by evidence from our study. We recommend the tracking of both men and women as index cases if we must reduce HIV transmission within stable relationships."
Risk factors for HIV infection in women
He noted that sexual intercourse at an early age (less than 15 years), high level of fertility and adolescent pregnancies have  been found to be associated with increased rates of HIV infection.
Other risk factors for HIV transmission in women include  commercial sex activity, multiple sex partners, having sexual intercourse under the influence of mind-altering substances, presence of sexually transmitted diseases and artisanal works – hair dressing, fashion design, street trading, house helps, receptionist.
Ezechi stated that in spite of the knowledge of these risk behaviours, most women become aware of their HIV status only during pregnancy, stressing that this makes prevention of MTCT of HIV more difficult as most Nigerian women present  late for antenatal care.
He recommended that to ensure women survive, the country must institute programmes such as female education, family life education in schools, as well as promotion of safe sex practices that target to protect women early.
HIV related deaths and causes
According to him, the advent of potent anti-retroviral therapy in the 1990 resulted in a dramatic decline in the rates of HIV-related deaths globally. "Unfortunately, HIV positive women have experienced a lower decline in mortality compared to men with HIV,"he explained.
"In one of  our  studies on the trends, causes and determinants of mortality among women who received HIV care, treatment and support services between 2005 and 2015, findings showed the contrary as the death rate of 2.6 percent among females was lower than 7.8 percent in males,"the researcher stressed. "Although deaths due to infectious diseases, with TB being the leading cause have decreased over the years, mortality from non-AIDS causes has become increasingly common; with the major causes of non-HIV related deaths being cardiovascular disease (3.5 percent), maternal mortality (1.4 percent) and liver disease (2.2 percent).
"While the presence of opportunistic diseases, severe anaemia, severe immunodeficiency were found to be associated with AIDS deaths, only age 35 years and elevated cholesterol/HDL ratio was found to be associated with non-AIDS death".
Mother to child transmission of HIV infection
Mother-to-child transmission of HIV (MTCT)  is said to account for over 90 percent of new HIV infections among children, and, without treatment, the likelihood of HIV passing from mother-to-child is 15 percent to 45 percent.
On this, Ezechi said: "In high income settings, the use of anti-retroviral treatment and other effective PMTCT interventions have reduces MTCT to below 5 percent. In low income countries like Nigeria, as data shows it is almost an impossibility to achieve MTCT rate of below 5 percent."
He added that it was possible because they have consistently achieved MTCT rate of less than 1 percent over the last decade at NIMR while at the state and national levels it is entirely a different story.   "Nigeria accounts for over 30 percent of the PMTCT gap burden,"he pointed out.
HIV on pregnancy and pregnancy outcome
According to him, analysis of data on the outcome of pregnancy in HIV positive women confirmed that the category of women is at an increased risk of adverse pregnancy outcomes.  "Adverse pregnancy outcomes were observed in 48.3 percent of HIV positive women compared 30.3 percent among HIV negative women.  The adverse outcomes in HIV positive women include low birth weight (2.5kg at birth), preterm birth, perinatal death, and spontaneous abortion. Severely immune-compromised women, and those with opportunistic illnesses, and those presenting late were found to be at the greatest risk for adverse maternal and foetal outcomes,"the researcher said.
Ezechi, however, noted that reducing these adverse outcomes requires early identification of women living with HIV infection and institution of HAART early in the pregnancy as it would reduce the plasma viral load, allowing for immune reconstitutions and reduction of opportunistic illness.
Way forward
Stating that International partners and developmental agencies have done well over the last decade in ensuring that comprehensive HIV care, treatment and support services are in place, the researcher declared that the time is  ripe for the Nigerian government to take absolute control of the national HIV response.
Researcher  and innovation, he said, are the bedrock of development and government, as a matter of urgency, must begin to invest in them.
"Currently Nigerian health policy and guidelines are developed based on data from outside Nigeria. Over the years we have seen how some of these policies have failed. Government should on regular basis commission research to provide data for policy and guideline development. National Assembly as a matter of urgency should pass the Bill on stigmatization and discrimination of PLHIVs," the researcher stated.
Ezechi  advised women living with HIV to seek information on the specific challenges and equip themselves with the necessary skills to live a positive life. "Protect yourself from new infections and opportunistic cancers as this has the potential to accelerate HIV disease progression. If you have not been screened for cervical cancer in the last 3 years and Tuberculosis recently, ensure you get tested as soon as possible. Protect your sex partners from getting HIV by disclosure of your status, getting him tested and making use of effective contraceptives. Protect your future children from getting HIV and stop self-stigmatisation and discrimination today,"he said.
"Women are not dying because of untreatable diseases. They are dying because societies have yet to make decision that their lives are worth saving. We have not yet valued women's lives and health highly enough.  What needs to be done to ensure that HIV positive women survive is known, strategies to prevent MTCT are also known and available, what is lacking is the will and commitment to make this service available to women and children".
Subscribe for latest Videos