Thinking of adding a touch of class to your property this festive period and beyond? Well think no further, with the recent launch of the Emilinks unbeatable price Christmas promo, your good taste for quality and class at an affordable price is guaranteed to be met.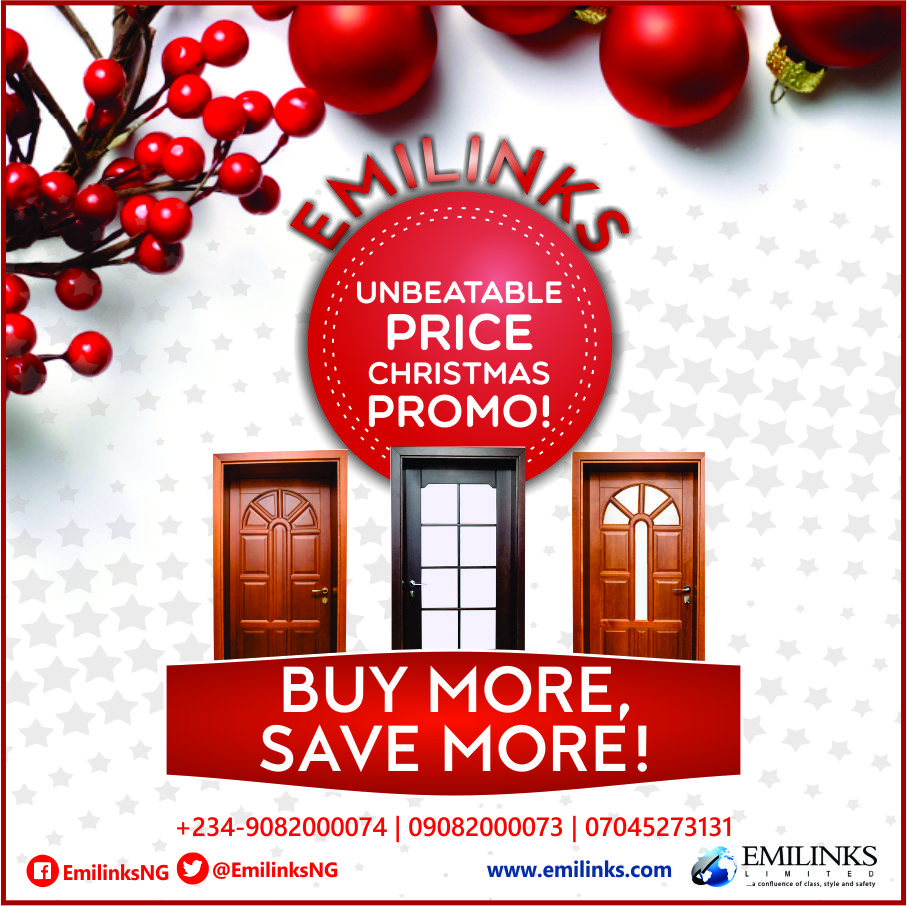 All Emilinks premium quality doors, whatever the style, will stand out for its ability to last over time notwithstanding the weather changes and humidity. But that's not all you get, Emilinks designer doors add something more: class!
Our classical doors give voice to the soul of a building, capturing the essential features of its size and creating a harmonious outfit that highlights the character. It's not just a door, but an artistic woodwork. They are the absolute focal point of any property, where beauty and luxury are combined perfectly to the needs of modern living.
The Emilinks unbeatable price Christmas promo features the following categories of products are on sale (all products available) for our esteemed customers, lovers of good things.
Premium Quality Security Doors
Never compromise on the security of your home or property. Provide your family and tenants with peace of mind always behind the strength of Emilinks bespoke security doors.
At the heart of all Emilinks security doors is a solid steel frame that will not warp, twist or crack. We combine sophisticated engineering with attractive design to offer you the ultimate in security, style and peace of mind.
With the ongoing unbeatable price Christmas promo, Emilinks bespoke security doors are on sale for N170,000 only!
Premium Quality Solid Wooden Doors
Being fascinated by Emilinks sophisticated solid wooden doors is not at all difficult, just look at their carvings, the wood species, gold or silver finishes, the inlays, the beautiful frames, the skillful design that features woods of different models and you can't but fall in love with them.
Your house will be the talk of the neighborhood when they see your spanking new Emilinks sophisticated solid wooden door. Now selling from N80,000 – N120,000 only!
Premium Quality 2 Hours Fireproof Doors 
Emilinks fireproof doors are extra durable 2 hours fire rated doors with anti-scratch skin surface and rock-wool filler. They look after you and your surroundings with a choice of trustworthy and long lasting closure systems that distinguish your surroundings with style.
Our fireproof doors come in a range of steel, glass and wooden variations with wide range of colours and ideal for homes, supermarkets, hospitals, warehouses, machine rooms, cinemas, restaurants and any public building.
They deliver the dependability, reliability and style you expect only from Emilinks – the No. 1 Door Brand in Nigeria. You can pick up a piece for N140,000 only!
Premium Quality Kitchen Cabinets
Every single Emilinks premium quality kitchen cabinets is exquisitely styled and expertly crafted. From minimalist, slab-style units to traditional shaker designs, you'll find classic, contemporary and modern kitchens in our Showroom.
They are uniquely designed to capture your individual taste and style. Now on sale for N200,000 only!
Premium Quality Wardrobes 
All Emilinks premium quality Wardrobes are collections of style and elegance. They are perfect combination of natural wood which is totally expressive, beautifully and uniquely crafted to complement and enhance bedroom interior designs.
As with other Emilinks brands of products, our Wardrobe collections still represents our brand values and signature which includes;
Functional designs that must work for you
Quality Craftsmanship and a superb finish
High quality with an enduring appeal
Affordable to fit your budget
They are now on sale starting from N80,000 – N120,000 depending on the type ordered.
About Emilinks
We are a global manufacturer of world class finishing and furnishing products such as; doors, beds, kitchens, dining sets, wardrobes and shelves for homes, offices, hotels, royal palaces, presidential lodge, honeymoon suites and luxury villas. For more details, visit our website www.Emilinks.com