By Patrick Omorodion
MY people say that once a child has his finger burnt by fire, he runs away from ashes. This was what came to my mind the moment I read a new column in Saturday Vanguard by a friend and colleague, Osasu Obayiuwana on October 22, 2016 with the title 'Nigeria, Dangote and Arsenal.'
In his piece, Obayiuwana made two disclosures, one was that he, knowing that billionaire, Alhaji Aliko Dangote was from Kano, wanted to know whether the businessman would be keen to take over Kano Pillars Football Club  and "use his financial muscle and business savvy to transform the club, which could be a turning point for football in the country."
The lawyer turned sports journalist wrote that the idea of taking over Pillars did not particularly interest Dangote. He said the businessman who has continually nursed the idea of buying over majority shares of his dream club, Arsenal of England said, "There are other people who can do that. I cannot be everywhere. I am not a fan of Kano Pillars. What I am passionate about is Arsenal."
The second was that his (Obayiuwana) conversation with Chairman of the League Management Company, LMC, which runs the Nigeria Premier football League, NPFL, Shehu Dikko revealed that they, the LMC, "made investment overtures to Dangote in the past but he had not positively responded to them. It might just be that their product does not meet his investment test. Until it does, he will not come near it."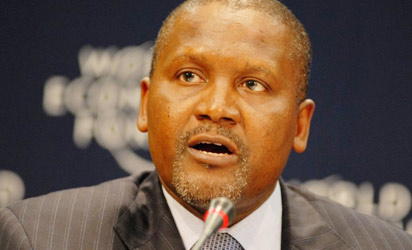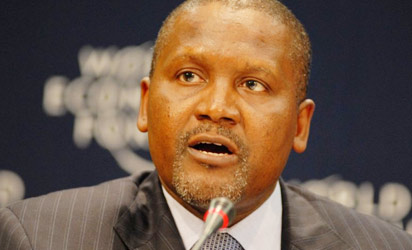 What Obayiuwana didn't know or what Dangote didn't tell him was that he was once approached by the authorities to help turn around Nigeria's football in the early 2000s, precisely in 2002 after the tenure of two-time military administrator of Kano and Benue states, retired Brigadier-General Dominic Obukadata Oneya. General Oneya, was Vice Chairman to Anthony Kojo Williams who lasted only a few months on the saddle as the powers that be in the sports ministry at the time plotted his impeachment. The Delta-born military officer never sought a second term and the ministry's big wigs wanted Dangote to succeed him.
In those days, election into the Board of the NFA was such that government had its own nominees from whom the Chairman is picked by a consensus that made it look like an election, unknown to FIFA. Most times too, the vice chairmanship position is also reserved for one of the government nominees and one of them was to be Dangote's deputy.
The thinking of government then was that Dangote will bring his financial muscle to bear in the running of football and because he may be too busy with his numerous businesses, the vice chairman would be in charge of the day-to-day running of the NFA.
The plan had been worked out and everyone was waiting for the election day just to rubber stamp the plan. Unknown to the sports ministry officials, a plan was hatched to scare away Dangote from the election process to pave way for one of the candidates who didn't want to play the role of a second fiddle but to be directly in-charge.
What was the kite flown? Stories were planted in the media that football fans have warned that if Dangote becomes the NFA Chairman, he could be in trouble any day the Super Eagles lost a match because angry fans would burn his trucks anywhere they find them. That was not a small threat and Dangote never took it lightly. He was reported to have wondered why he would suffer losses just because he wanted to contribute his time and resources to help reposition the country's football administration and the game itself. He immediately did an Usain Bolt and bolted away from football. So asking him to think about taking over Kano Pillars, because it is a club from his native Kano would never sell. And that is why he told Obayiuwana point blank "I'm not a fan of Kano Pillars".
Dangote is also a man who doesn't place sentiments side by side his businesses. He was once accused by his kindred of favouring Nigerians from the southern part of Nigeria in employment in his numerous companies. His reply? It was reported he said in business he doesn't apply sentiments and that in fact his businesses are mainly in the southern parts and therefore more employees will naturally come from there and they all must be competent in the first place.
Therefore, for Dangote, it is not about ploughing his resources into Kano Pillars because it is his State's club. He wants to know first whether it will yield positive results for him. His interest in Arsenal first and foremost is his passion and then viability. He believes Arsenal would be a worthwhile venture.
Most of all, the risk in investing in Nigeria's football is too high for him considering the threat of fans burning down his trucks anytime national teams flopped in matches. Even though Kano Pillars is a state team, what is the guarantee that his businesses will not be linked to it if Pillars are involved in any squabble with teams from other parts of the country? Will his businesses not be the main target?
However, if the LMC Chieftains made overtures to Dangote in the past and his reply wasn't positive, there is no harm in they re-presenting their proposal.  If like Obayiuwana said, "that their product does not meet his investment test," then, it may this time around, considering the positives recorded in the management of the recently.  I add that the NFF or LMC or the clubs in the country should not close their doors yet on Dangote. He may still change his mind. Never say never, is the key word. What they just need to do is put their houses in order.