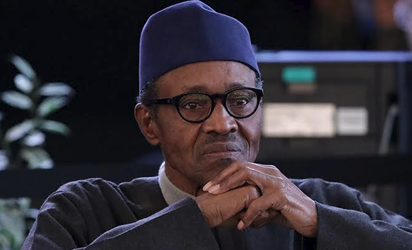 President Buhari
By Sonny Atumah
It  appears the proposed Nigeria US$15 billion facility from India may be a loansharking. The loan would be repaid with long term contract to supply crude oil to Indian Public Sector Undertakings, PSU (government owned corporations) that are mostly engaged in refining of petroleum products and in petrochemicals. The deal may also be in refining, executing City Gas Distribution, CGD, and Liquefied Petroleum Gas, LPG infrastructure projects by Indian PSUs.
The Minister of State for Petroleum Resources, Dr. Ibe Kachikwu with his Indian counterpart in charge of Petroleum and Natural Gas, Shri Dharmendra Pradhan are putting thoughts on paper in a memorandum of understanding, MOU to be firmed up at the PETROTECH 2016, the 12th biennial International Oil and Gas Conference and Exhibition at the Vigyan Bhavan in the Indian National Capital Territory, Delhi from December 5-7, 2016.
Kachikwu had gone to India last October to solicit for assistance for our ailing petroleum industry. Earlier in the year he gave the impression that about US$700 million would rehabilitate the our refineries to maximize their outputs. Indeed we need investments and collaborations in the downstream and upstream sectors, but not with a humongous US$15 billion loan from India.
Experts express doubts that a corporation with low records of transparency and accountability would effectively manage funds of that magnitude. The NNPC owes Joint Venture partners billions of dollars in cash calls.
Since July 2014, the international crude oil market had been glutted; with government hardly able to meet fiscal provisions including the 2016 budget.  By the third quarter, Q3 of 2016, Nigeria's economy went into recession. The Federal Government is also seeking external borrowing of $29.96 billion, which request is awaiting the approval of the National Assembly.
It is not clear whether the US$15 billion is part of the President Muhammadu Buhari's loan as there was no item of petroleum infrastructure listed in the request. Observers believe the proposed US$15 billion loan for crude oil exchange is vague in specifics, so the devil may be in the details. Nigerians deserve to know the jumbo loan schedule.
With very low domestic savings the Federal Government is borrowing externally to stimulate the economy.  The issue of external borrowing may have a positive relationship with GDP in the short run but if not well managed a negative relationship may result in the long run.  Nigeria generates 95 percent export revenue, 85 percent public revenue and 14 percent gross domestic product, GDP contributions from oil.
Our external debt to GDP ratio is 12.24 percent. Debt service to revenue ratio is 35 percent. With Revenue to DGP ratio of 6 percent we may indeed have a management problem because it is less than the acceptable level of about 18 percent.
But do we have the capacity to effectively manage funds of this magnitude?
Experts believe the government should exercise restraint to avoid the 1985-2004 period where our external earnings were grossly spent on repayment and servicing of US$35.945 billion debt to multilateral agencies, Paris and London Clubs etc., until the debt forgiveness in 2006. And that may defeat government's intention for growth and development.  From the Debt Management Office, DMO Nigeria's external debt stock by June 2016 is US$11.261 billion.
The loan from India for long term crude oil contract may turn out to be an expensive venture; our bargain is not on cash on the barrelhead. There is no reciprocal relationship on the very many byproducts and derivatives, being a crude term contract. If loan acquisition is inevitable Nigeria should have a clear-cut business and investment policy parade with all indices to match Indian adventure capitalists.
In June 2016, the Minister of State led Nigerian officials to China to woo investors in the downstream sector. The Chinese Department of International Cooperation, DIC of the National Reform and Development Commission, NDRC was made to fashion a blue print for would be investors and develop an overarching master plan for Nigerian oil and gas.
The Chinese were to provide detailed feasibility studies of current status of the existing infrastructure in the Nigerian industry and develop bankable projects that would attract Chinese investors on the government-to-government platform.  We were in a disadvantaged position for negotiation; assumptions were that the NNPC lacks technical and managerial competences.
Since the United States dumped our crude oil for the Azeri (Azerbaijan) oil in July 2014; it was belly flop that we crawled to India for rescue. Nigeria is India's largest trading partner (dominated by crude oil and gas imports) in Africa. The India government is a net importer of crude oil with the national oil companies operating 19 out of her  23 refineries.
Out of the 14- member OPEC, Nigeria is the only one that her petroleum managers kill their refineries. They import petroleum products even from non-producing consumer nations, inflict pain on their citizens and pontificate about it.
Ordinarily, we would have used refining and downstream activities to diversify the Nigeria economy along vertical linkages since we have comparative and competitive advantages in petroleum. Petroleum products including gasoline, kerosene, diesel, fuel oils, liquefied petroleum gas, lubricants, asphalts, naphtha, paraffin wax, plastics, fertilizers', pesticides, coke, bunker oils etc. are imported.
The profitability of base petrochemicals either from olefins (ethylene, propylene and butadiene) or aromatics (benzene, toluene and xylene) cannot be quantified.
Refineries and petrochemical plants are required for strategic reasons including economic, political and security. Doing so means reaping value additions for energy, technology and skills. With local refining we have up to 6000 by-products and derivatives, diversify the economy along vertical linkages, create wealth, induce savings and investments, increase GDP(nominal or purchasing power parity), increase fiscal revenue, and soak up unemployment in our army of youth that are becoming restive.
The diversification experience of a few successful oil exporters suggests that diversification usually takes place amid dwindling oil revenues. Successful strategies have relied on a policy mix of promoting vertical diversification in comparative advantage sectors such as oil and gas and petrochemicals and endeavours into horizontal diversification beyond these sectors with an emphasis on technological upgrade and competition in international markets – IMF.
We spend tens of billions of dollars importing petroleum products, petrochemicals and petroleum-based raw materials annually from net importers of petroleum. India as a net importer of crude and the world's third largest energy consumer still subsidises energy. The IMF's 2015 country profile places India's post tax subsidies on petroleum at US$72.19 billion, and on natural gas at US$9.29 billion.
In India foreign oil companies are only allowed to market products refined by Oil Corporations and companies. Our main conversation with the Indians that import crude and refine should be on technical collaborations, far and above pedestrian levels of crude oil sales to obtain loans.