By Omeiza Ajayi
ABUJA – Deputy National Publicity Secretary of the All Progressives Congress APC, Comrade Timi Frank has declared that he remained a bonafide national executive officer of the party, despite Friday's "suspension order" slammed on him by the South-South Zonal Executive Committee of the party.
Speaking Sunday in Abuja, Frank said he only read in the media that he had been suspended, saying while he has not been officially communicated, he is not, in the least, answerable to the zonal executive committee, but to the National Executive Committee NEC.
"I want to make it very clear to you and to the Nigerian people and my supporters that I still remain a loyal member of the APC and I want to make it very clear that I have not been suspended. I make bold to say that I still remain in charge as the acting National Publicity Secretary of the APC. It is very clear that there is a desperate move by my national chairman and his cohorts to get rid of me to enable them carry out their plan so they can appoint acting publicity secretary that they will pocket, that will be committed and loyal to them but not to the party. I think that is the major reason why they are plotting to get me suspended.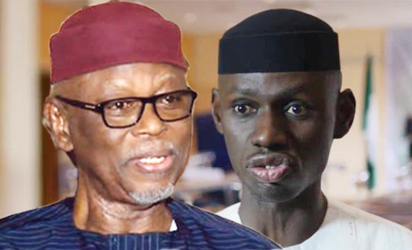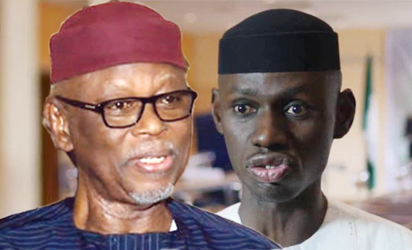 "But there is a procedure to get ne suspended, and it is sad that neither my national chairman nor my zonal chairman would follow that, first of all, I am not a zonal officer of this party; I am a national officer of this party.
"And I made it clear as soon as it was setup that I won't attend to any committee that is not setup by the NEC of the party. It is only the NEC that can set up a committee to suspend me. Any attempt to silence me is an attempt to silence the Nigerian youth and I believe that Mr President will not be in support of this desperate act of by national chairman", he said.
Oyegun should be given ambassadorial posting
Frank also appealed to President Muhammadu Buhari to intervene in the ongoing crisis in the party, saying part of the solution is to name the national chairman of the party, Chief John Odigie-Oyegun an ambassador.
"I want to appeal to Mr President, please Mr President, this is a personal appeal from me to you, that is time for the president to intervene in the crisis rocking this party.
"As it stands, it is only the president that can unite us again but as long as the president remains silent, this crisis will not be resolved. The president should listen to the call of Bola Ahmed Tinubu that this chairman should resign and pave way for someone who can be national chairman to resolve and put us back in form.
"And if the president wants to appreciate the support of Oyegun, the president has so many ways to compensate him, I will appeal to the president if it is possible, to appoint Oyegun as an ambassador being a former career civil servant, he will do better as an ambassador not as national chairman", he said.