By Our Reporters
ON the lips of many Nigerians across the country are lamentations and tales of woe as hardship occasioned by the prevailing wind of recession bites harder. Apart from feeding, a host of the citizenry, who spoke to Vanguard, said they are finding it difficult to meet other basic needs of life.
Price of foodstuff doubles in Imo, Jigawa: The current hardship sweeping across Imo State, hit a feverish pitch, weekend, as the prices of some major staple foods have gone out of the reach of many families. Vanguard's check at markets in Owerri revealed that most food items had gone up by 100 to 150 percent in the state.
A bag of rice now goes for between N23,000 and N25,000, as against N8,000 in 2014. Similarly, 30-litre container of palm oil that was sold for N5,000, now goes for N12,500, while a measure of beans now sells for N1,500 as against N500. A tiny ball of onion sells for between N10 and N20, depending on the bargaining power of the buyer, as a small paint bucket of garri, which was sold for N300 now goes for between N700 and N850.
Most residents who spoke to Vanguard said that their purchasing power has gone down so badly that they are barely managing to survive.
"We have either deleted completely or reduced the frequency of serving some foodstuffs in my family's menu. Food items have really gone out of the reach of poor people in Imo State", a widowed mother lamented. Continuing, the anguished mother said: "My children and I have been surviving by sheer God's grace. It has not been easy to pay our medical bills and the children's school fees". A staff of one of the ministries in Owerri, said it has not been easy for Imo workers and pensioners.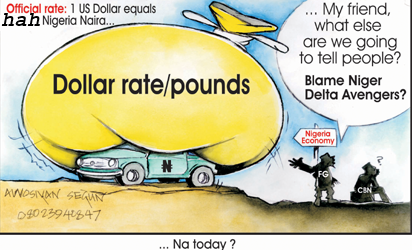 Salaries and  pensions
"It is no longer news that those of us that can be said to have received salaries and pensions, were largely underpaid for months. You can, therefore, imagine what we are passing through", the civil servant said. In her own contribution, Mrs. Augustina (surname withheld) said that the economic situation in the country was sending heads of families crazy. I am aware that many families have adopted divergent ways to tackle the economic crisis, including withdrawal of their children from private schools", Mrs. Augustina said.
A young man, who simply identified himself as Harrison, lamented that "the ugly situation in the country has led to massive reduction of jobs in various sectors of the economy". Meanwhile, a visit to the red light districts in Owerri municipality at the weekend, showed that prostitution was gathering momentum. "I am in this business (prostitution) because of the hardship members of my family are passing through. We lost our father three years ago and my mother can't get her pensions", a young girl sobbed as she narrated her story."
Asked if prostitution was the only way out of the economic crisis, the girl said: "Where is the capital to even start sale of groundnut or crayfish? I was given a sales job that was to give me N5,000 monthly. What can this solve for a family of seven? This is how I found myself in this business".
She appealed to government to make good their promise of creating jobs and improving the sagging economy. A transporter, who identified himself as Onye Army, lamented that "commercial transport owners are equally finding things hard. Fuel has jumped from N87 to 145 per litre. The Naira has since been messed up by the American dollar. The costs of new and used cars have hit the skies. The same is also true of motor spare parts and this is why fares have been adjusted in line with the reality of the time", he said.
A similar scenario obtains in Jigawa where prices of foodstuffs and other essential commodities in major markets and mini shops have rising by 150 per cent thereby throwing many households into economic chaos. The situation is worsened by the closure of Niger Republic boarder through which food items such as rice, spaghetti, macaroni, milk, vegetable oil and other assorted goods are imported to Nigeria.
The development has compelled many people especially those living in rural areas to revert to local foods such as moringa, cassava and their related leaves combined with groundnut cake popularly known as kulikuli. Even garri has been priced beyond the reach of many people. A small measure of rice is now N1,100 as against N500 while local rice goes for N800-N900 as against N350-N400 in the past. A mudu of beans is N800 as against N400, while a pack of Maggi star is N360 as against N250. A carton of Indomie noodles sold for N1,800 now costs N2,500.
A kilo of meat which sold at N800 now costs N1,200 and a kilo of fish is now N800 as against N600; kilo of chicken now costs N1,000 as against N600. A sachet of powder peak milk sold at N35 is now N50; a mudu of sugar is now N1,100 as against N600, flour cost N580 as against N350. Big pack of stick matches now costs N50 as against N25.
Asked how he is coping, Malam Abdulkahar Mohammed, said he and his family now eats twice a day.  "Life isn't easy with the increase in everything and money is hard to get. It is not easy to get job and even those with jobs, their salaries are not enough for them to cater for their daily needs. The circumstance had compelled many of us to withdraw our children from private schools back to government schools as an alternative for them to pursue their education," he said.
Malam Aliyu Dangida, one of the parents who have withdrawn their children from private schools and enrolled them in government schools, said: "I have six children in private schools, but with the increase in their fees by over 100 per cent, I can't afford to continue paying their fees. So, I have transferred them to government schools."
Families cry  out in Abia
Residents of Aba, Abia State have cried out over the soaring prices of foodstuffs in the market, and urged the government to introduce policies to check the trend.
Vanguard investigations revealed that some families have devised stringent measures to tackle the prevailing situation. Such measures include 'skipping meals' and avoiding those they classify as luxury. Some are used to taking breakfast and skipping lunch to have dinner while others take light meals to save cost. It was also discovered that some men have set up small scale businesses for their wives to generate more income for the family.
A visit to major markets in the city revealed that price of foodstuffs has sky-rocketed beyond the reach of consumers. Worst hit are the prices of staple foods like rice, beans and yam. A bag of rice sells for N21, 000 from N11, 000 while a cup of foreign rice goes for N120. It was also discovered that a bag of local rice sells for N10, 000 while a cup goes for N80.A tuber of yam sells for N700 from N400, while a bottle of Kings cooking oil has gone up from N250 to N450.
A cup of beans which was sold for N60 now goes for N90, same for carton of tomatoes which now sells for N1, 500 from N1, 200. A bowl of garri consisting of 16 cups has gone up to N600 from N400.
On the other hand, a family size loaf of bread sells for N600 from N400 while a basket of tomato fluctuates between N12, 000 and N18, 000 depending on availability. A bag of pepper, which formerly went for N12, 000 has gone down to N4, 000. A bottle of palm oil is now N400 from N200. A carton of ice fish has shot up to N13, 500 from N9, 000 while a bowl of crayfish sells for N1,500 from N1,200.
A housewife, Nnenna Nwabeke, said: "Prices of everything has shot up in the market. I used to make a pot of soup with N3, 000, but today it is no longer possible. You will spend N400 to buy only  vegetable. Even the normal ice fish, which my family prefers for rice and stew now sells for N1, 500 from N500 each. The woman, who I buy fish from told me that the price of a carton of ice fish now sells for N13, 500 from N9, 000. The worst thing is that any foodstuff you buy for N100 today will soar to N200 before two days. It is a terrible situation. People are dying of hunger. The government should do something to assist the citizenry."
Exorbitant  fees
A lecturer at the Abia State Polytechnic who declined to have his name on print, lamented that he had to return his two children to the public school as he could no longer afford the exorbitant fees being charged by private school. "I have two children in higher institution, including the younger two in private school. I had to withdraw them from private school to the public one because I can no longer afford it. I'm being owed six months salary; how can I feed my family, pay bills and school fees for my children? It has been difficult for me in the last three months that we had to adjust some expenses due to lack of money. My wife runs a boutique, but she no longer gets patronage as before. It takes tact and careful planning for any family to survive this period."
Speaking on the situation, Harold Nwanne who deals on dredging equipments in the city said the dwindling economic situation has adversely affected many businesses as families are now preoccupied with survival strategies.
He said, "There is hunger in the land; every family is now concerned with how to survive. I blame the government; yesterday's jamboree has turned to today's misfortune. There was a lot of miscalculation on petrol dollars; they thought that oil sales would continue even when most countries had developed alternative energy. The government should invest in social welfare and rebuild infrastructure."
Traders record low sales: Businessmen in Aba also lamented that customers no longer patronise them.
Chairman of the National Association of Nigerian Traders, NANTS, Ariaria chapter, Deacon Michael Aniorji, said: ''We are finding it difficult to make sales. Our customers are complaining that they don't have money to make purchases. It boils down to the dwindling economic situation in the country. It is high time the government introduced policies to boost the local economy. Unlike the situation before now, you can stay in the market from morning to evening without anybody asking if your wares are for sale. It is only when you make sales that you get the profit to take care of your family needs. We have the stock but no sales.''
Recession in Bayelsa: In Bayelsa, residents have devised copy mechanisms to survive the recession as prices of food stuffs such as garri, rice, beans, and yam and bread among others soar by over 100 per cent. A bag of rice previously sold between N11, 000 to N14, 000 is now sold at N22, 000 to N24, 000. A bowl of garri formerly at N300 is now N500. A bread of N250 is now N400. A tuber of yam now goes between N500 to N1, 000 depending on size.
The dire situation in Bayelsa state has been aggravated due to the delayed and infrequent payment of salaries to workers in the predominantly civil service state where one third of the population are civil servants.
Unfortunately, the state and local governments owe their workers backlog of salary arrears following the drastic drop in federal allocations. The state government now pays half salaries to workers. This scenario has piled more misery on many families and plunged many into starvation and huge debts.
Many families hardly afford two square meals daily. Most families now skip meals and are contented with eating once daily while staple foods like garri and rice which used to be a common menu in many homes are now considered as luxury.
Many families now resort to cheap and affordable food substitutes, like coco yam and in Yenagoa for instance, many families now consume locally made bread called Madiga in local dialect, even though it is said to be high in bromate. Many parents have withdrawn their children from private schools to access the tuition free public schools in the state.
A resident of Yenagoa, Mr Akene, a father of four, said he had to withdraw one of his daughters from a more expensive school to a cheaper one while his last child who is over three years old could not be enrolled due to the economic situation. We also gathered that some parents have stopped home lessons for their children and disengaged private drivers. We gathered that most private schools have also downsized their work force or in most cases slashed workers' wages.
In the state civil service, findings indicate that the electronic mandatory clock introduced to ensure punctuality and check absenteeism  is no longer tenable as civil servants barely go to work promptly  due to high transportation cost. Some residents, who cannot afford exorbitant rents in the cities have sent their families to their country homes and moved into smaller apartments.
Foodstuff  business
Some understanding landlords now accept instalment payments and other concessions.
Commodity trading in food stuffs and transportation seem to be attractive now in the state. A seamstress, Miss Naomi, who abandoned her tailoring job to venture into foodstuff business, said that people are not thinking of clothes or fashion but food first. "In this present economic situation, what people are thinking is food and food. Nobody is thinking of clothes because you must eat before you think of fashion. Look around, other businesses are on standstill but at all times people must buy  foodstuff, and that is why I started it."
Now, many people go to the hinterland to buy foodstuff and fruits for sale in the city. With low construction activities, many young people have embraced commercial tricycles popularly called Keke NAPEP operators.
The hunger in the land has led to an upsurge in criminal and cult activities. A new trend of thieves have emerged, they dispose people mainly of their food stuffs, phones and electronic gadgets.
Religious centres, schools record low attendants in Ekiti
In Ekiti, the tales of lamentation are very loud as residents lament on the daily increases in price of foodstuffs, especially rice which is one of the common food consumed in Nigeria.
In Ekiti, government is the largest employer of Labour and workers dictate the pace of the state's economy, but presently they are being owed six months salary arrears.
In-spite the parlous nature of the state's economy, the prices of foodstuffs and other commodities keep increasing daily. For example the price of a bag of rice, which is the staple food of the people in this area jumped from N8,500 to N20,000 and locally produced one, which could serve as alternative has also moved up, almost matching the imported one
Mrs Kike Adeyemi, a clothes seller, Mrs Jumoke Ogundele, a provision seller and most of the residents, who spoke to Vanguard complained about the low inflow of money, rising costs of foodstuffs and essential commodities.
They therefore implored the federal government to finance the small scale farmers with capital  and other necessary equipment to facilitate the productivity.
Private Schools are not left out of the effect of the gloomy economy as many parents have withdrawn their wards to public schools. Churches and other religious houses in the state are also suffering from the economic crunch, as many worshippers prefer to stay at home.
Lagos residents lose purchasing power
Lagos residents are also groaning over the hike in prices of goods and services in the country.
Some corporate organizations are laying-off staff,while many parents have withdrawn their children from private schools and enrolled them in public or less expensive schools.