By Emman Ovuakporie and Johnbosco Agbakwuru
ABUJA – DEPUTY governor-elect in the just concluded governorship election in Edo State, Comrade Philip Shuaibu has said that the incoming administration in the state will consolidate on the achievements of Governor Adams Oshiomhole and also make the state an agricultural exporting state.
Shuaibu who presently represents Etsako Federal Constituency of Edo State while speaking to journalists in Abuja, said that the Oshiomhole-led administration had done well in the state as he had laid the foundation, adding that the administration came to rescue Edo State from infrastructural decay.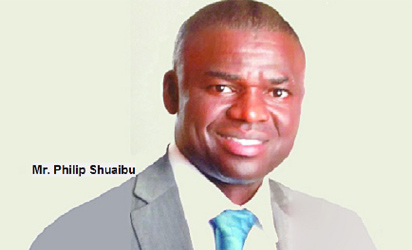 According to him, "In 2006, Edo state was one of the worst states in terms of education we were 32 position in WAEC. In the schools in Edo state, students in the class room can see a plane when it is passing, that is the level of decay we had in educational infrastructure.
"Water was a problem, the industries that they met were destroyed. Edo line that was not only the pride of Edo state but of the nation was run down. Just name it they were all dead.
"The situation in Edo state was tensed to the extent that for you to be anybody you need to go to a shrine somewhere in Uromi, for you to be a councillor in my own area of Edo north you must go to the shrine in Uromi. That was the level Oshiomhole took over from.
"But today Philip can be a deputy governor of the state of Edo state without going to any shrine. That is the level he has cleaned up the state. He has laid the foundation. Red roof revolution. Today from 32 in educational rating we are number three in WAEC and number two in NECO.
"We want to run this state like Lagos state. A state with or without Abuja handouts it can survive it's workforce and also provide its infrastructure. We want to take it to a level where we can pay the workforce from the internally generated revenue."
Speaking on the governor-elect, Godwin Obaseki, he said, "The governor (elect) who is a technocrat and somebody who has spent 30 years of his life time in investment banking, investment programmes, has helped banks to grow, we are into a serious work in Edo state beyond employment to make it a viable state.