By Chinedu Adonu
ENUGU—ENUGU State governor, Mr. Ifeanyi Ugwuanyi has described teachers as bridge builders who are responsible for moulding and constructing many professionals and renowned individuals in the society today.
Governor Ugwuanyi who was represented by the deputy governor of the state Mrs Cecilia Ezeilo, made this known during the celebration of this year's World Teacher's Day at the Michael Okpara Square, Independence layout Enugu.
"Teachers are the reason we are what we are today. They are the bridge builders who patiently, with tender care, nurtured us to become the professionals; doctors, lawyers, engineers, governors and presidents that we are today.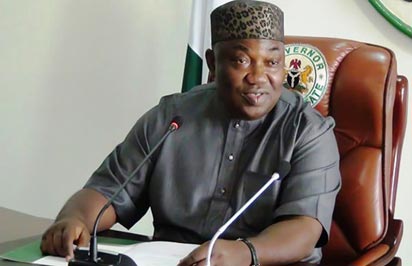 As the world celebrates teachers in every country of the world and their efforts in making us great in the society, we can only show them love and appreciation for what they have done for us. We can only do that by improving their welfare and making sure that they are comfortable," he said.
He, however, urged teachers in the state not to relent in imparting knowledge on their students and bringing them up morally and to discipline them whenever the need arises, adding that his government will make their welfare his priority in the state.
In a welcome address, the state chairman of Nigeria Union of Teachers, NUT, Comrade Ozor Paul Nnaji, said the celebration is about recognizing the efforts of teachers globally.
"The World Teacher's Day is a global celebration in recognition and appreciation of the important role of teachers in the upbringing and education of children which is the foundation for development for any nation."