By Henry Umoru & Joseph Erunke
ABUJA—THE Senate yesterday lampooned the National Refugees Commission, saying its non-existence at camps for the Internally Displaced Persons, IDPs, in the North East was responsible for uncoordinated manner of activities in the camps.
The Senate, however, asked the commission to wake up to its constitutional responsibility and be on top of the situation.
Speaking yesterday in Abuja when the leadership of the National Refugees Commission, led by a federal commissioner, Hajia Sadiya Umar Farouk, visited him in his office, Senate Leader, Senator Mohammed Ali Ndume, who described himself as an IDP, said he had not visited his village in the past three years, adding that he used helicopter from Yola Airforce base to see his people the last time he visited.
Speaking further, Senate Leader Ndume assured the Commission of maximum support of the Senate in carrying out its mandate as far as resettlement of the IDPs was concerned.
He said: "The humanitarian crisis in that our area is unbelievable. International and non-governmental organisations and all sorts of charity organisations known for humanitarian help are already on the ground but the presence of the Federal Government of Nigeria is virtually non-existent.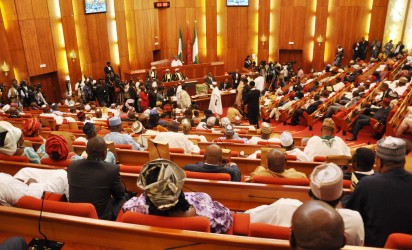 ''Your commission has the legal and constitutional role of playing a significant role in this crisis.
"I have been wondering why the National Refugees Commission has remained in the background. I think that is what is responsible for the uncoordinated manner with which things are being done there. And basically there is nothing to write home about.
"We will give you all the supports. I am directly affected. I am an Internally Displaced Person because I have not been able to go to my village or town for the past three years.
''I visited Gwoza only once and with that, I had to use a helicopter from Yola Air Force headquarters to go and see our people.
"There are people there now trapped and it is not only in Gwoza; the 22 local government areas are facing the same plight. Nobody knows what they are facing because nobody goes there to see it. ''People in the accessible places are doing fine.
Those Chibok girls that were released – 21 of them – were released from Sambisa and that is the headquarters.
''They moved them from Sambisa and drop them somewhere. They spent 40 days without eating – one month and 10 days without food. And that was because there was no food.
"One of them was telling me that some of them – the men – were wearing only underwear because there was even no clothing to cover them.
"The situation now is getting so much out of hand that you (NRC) need to come in as quickly as possible before these areas are opened. If these areas are opened without you going in first, this country will face serious embarrassment."