BY JUDE OPARA, Abuja
TO ensure adequate preparation. for the second group game of the 2018 World Cup against Algeria, Super Eagles technical assistant, Gernot Rohr is set to return to the country by the first week of November.
Rohr who guided his boys to a comfortable 2-1 win over Zambia in Ndola last Sunday has returned to Germany after the departure of his foreign based players.
An impeccable source at the secretariat of the Nigeria Football Federation (NFF) told Sports Vanguard that the federation permitted the coach to return to his country since the issue of his official accommodation is yet to be sorted out.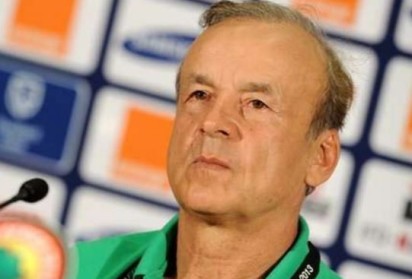 He also noted that since it is very clear that Rohr will rely more on the foreign based professionals to prosecute the World Cup qualifying matches, it makes sense to allow the tactician visit his country.
"You know that the federation is taking this qualifiers very seriously, hence the need to allow the coach a little time to cool off before the camp resumes by the first week of November for the crucial match with Algeria on the 12th.
"Again, we all know that the players that will prosecute these matches are largely those plying their trade abroad. So it does not really make much sense keeping the home-based players in camp after their long season just ended."
Rohr had told journalists in Abuja that he will be taking each game as it comes insisting that he will not talk about Cameroon yet until after the cracker with Algeria on November 12 at the Nest of Champions in Uyo.