By Ben Agande, Abuja
Details of how the national Chairman of the Caretaker committee of the Peoples Democratic Party, Senator Ahmed Makarfi and the former chairman of the party, Ali Modu Sheriff agreed to go to the negotiating table have emerged.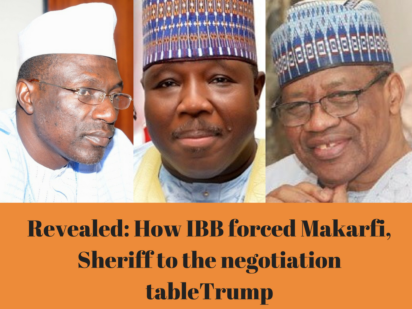 Saturday Vanguard gathered that following the crisis that engulfed the party, the former head of state, General Ibrahim Babangida summoned the two leaders and directed them to resolve their differences for the interest of the party and the North.
According to a source familiar with the process that led to the meeting of the two leaders, a prominent member of the party from the South Eastern part of the country reportedly met with the former president in Minna and urged him to intervene in the lingering crisis in the party for the sake of the country and especially the northern part of the country where two of the contenders to the chairmanship position are from.
Vanguard gathered that the politician from one of the south eastern states who was a former senator met with former President Babangida and requested him to intervene in the crisis since both Makarfi and Sheriff respect him a lot.
President Babangida reportedly summoned Sheriff and Makarfi and urged then to find a peaceful way of resolving the leadership crisis in the party (in the interest of the country\' to which they  agreed.
After their meetings with Babangida, Senator Makarfi and Sheriff agreed to meet and find a common ground to resolving the leadership crisis.
A member of the caretaker committee of the party confirmed the intervention of president Babangida, saying that \'his intervention was responsible for the progress we have achieved so far because before then, Sheriff and his group were recalcitrant.
Vanguard gathered than it was after the intervention of former president Babangida that senators Sheriff and Makarfi met and issued a joint statement pledging their willingness to resolve the crisis once and for all.