By  Sola Ogundipe
We're  always hearing how a  certain vitamin or herbal supplement will cure a chronic condition or drastically improve the quality of our lives. Information about dietary supplements is often confusing or unclear.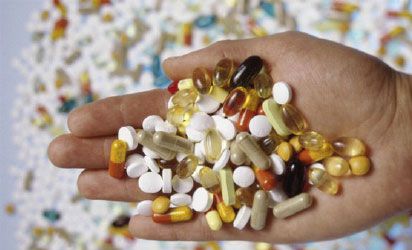 It's hard to know which offer genuine health benefits and which are merely giving false promises, or worse, running the risk of actually damaging your health. So what vitamins and supplements are right for you?
What they are
A dietary supplement is a product that:
supplements the food you eat. it contains one or more dietary ingredient (including vitamins; minerals; herbs or other botanicals; amino acids, and other substances).
Vitamins and minerals are micronutrients that serve a specific purpose and benefit the body in a unique way. For example, vitamin A supports vision and bone growth, whereas vitamin E strengthens the immune system and helps repair DNA.
Vitamin and mineral deficiency can impair the body's ability to heal and protect itself. Micronutrients can also have an effect on mental health.
Do you need them?
If you eat a diet rich in fruits, vegetables, and fortified food, you're probably getting all you need. But supplements do offer an easy, just-in-case form of health insurance.
If you don't eat a nutritious variety of foods, some supplements might help you get adequate amounts of essential nutrients. However, supplements can't take the place of the variety of foods that are important to a healthy diet.
Taking micronutrient supplements won't make up for an unhealthy diet, though. The basis of healthy eating should always be a diet rich in fresh fruits, vegetables, whole grains, healthy fats, fish and low in processed, fried, sugary, and refined foods. However, some people may benefit from extra nutrients found in a supplement. A general multivitamin and mineral supplement can also be a good safeguard against periodic nutrient shortfalls in your diet.
Who can benefit?
In general, children and adults might benefit from taking one multivitamin per day. A multivitamin helps provide a consistent source of the necessary vitamins and micronutrients.
However, the very first consideration is to eat a healthy diet. Even the best supplement is no substitute for good nutrition. Some groups of people, because of distinct nutritional needs, benefit most from taking a vitamin and mineral supplement, they include women of childbearing age (need extra calcium and iron; pregnant or lactating women, children and teenagers with irregular eating habits and the elderly.
Scientific evidence
Scientific evidence shows that some dietary supplements are beneficial. For example, calcium and vitamin D are important for keeping bones strong and reducing bone loss; folic acid decreases the risk of certain birth defects; and omega-3 fatty acids from fish oils might help some people with heart disease.
Antioxidant supplements, like vitamins C and E, might reduce the effectiveness of some types of cancer chemotherapy.
Keep in mind that some ingredients found in dietary supplements are added to a growing number of foods, so you may be getting more of these ingredients than you think, and more might not be better.
For example, getting too much vitamin A can cause headaches and liver damage, reduce bone strength, and cause birth defects. Excess iron causes nausea and vomiting and may damage the liver and other organs.