UMUAHIA—IMMEDIATE past governor of Abia State, Senator Theodore Orji who in recent times, has come under severe media attacks from some politicians in the State, has dismissed the attacks, saying that they were borne out of "idleness, resentfulness and envy."
Specifically, Orji has denied having anything to do with the arrest of his kinsman and APC chieftain, Chief Benjamin Apugo by the Economic and Financial Crimes Commission, EFCC.
Reacting to recent media attacks from his estranged predecessor, former Orji Uzor Kalu; APC chieftains, Chief Tony Ukasanya and Chief Benjamin Apugo, Senator Orji wondered why they had chosen to make him an object of their media attacks when he left the office of Governor of Abia State over one year.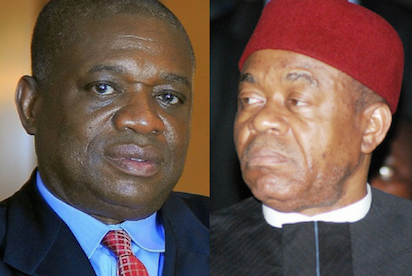 According to him, it shows that some of his attackers have "nothing doing, only to wake up and sleep, thinking of Senator Theodore Orji."
Orji, through his Media Adviser, Don Norman Obinna, said that the media attacks were due to his "fast rising political profile.
"Any politician or individual who wants to revive his dead political career or wants to be heard must heap whatever misery he faces on Senator Theodore Orji just to get the attention of the media and probably, the sympathy of some people.
"When last have you heard, read or seen Ukasanya speak on radio, newspaper or television? Except politics, what else is his means of livelihood? At his age, he should be a statesman by now, but this is not the case."
Obinna also dismissed the allegation by Chief B .B Apugo that Senator Orji plotted his arrest by the EFCC to tarnish his image, as "laughable," saying that Orji has no hand in his arrest and that EFCC clearly stated reasons for his arrest.
"How can Sen. Orji plot an arrest of Apugo by the EFCC when in actuality they acted on order of court in a petition written on March 24, 2014 from Falana & Falana Chambers to the Chairman of EFCC? Falana & Falana petition to the EFCC on behalf of their client Obioma Isiuwa alleging that Apugo defrauded him of the sum of N36, 000, 000.00 through the sale of six plots of land measuring 24.364 hectares belonging the government and acquired for the Federal Government Railway project".