By Rotimi Ojomoyela
Ado Ekiti—The Ooni of Ife, Oba Enitan Adeyeye Ogunwusi, has called for careful handling of the threat posed by some herdsmen across the country, especially in the Yoruba region of the country.
The Ooni, who stated this at the palace of the Ewi of Ado Ekiti, Oba Rufus Adeyemo Adejugbe yesterday, said this became necessary in order not to allow the issue degenerate into a major crisis.
Oba Ogunwusi said the anti-grazing law was a welcome development because Nigeria is a federation and Ekiti State was in a federation, but called for care in the handling of the issue because it could degenerate.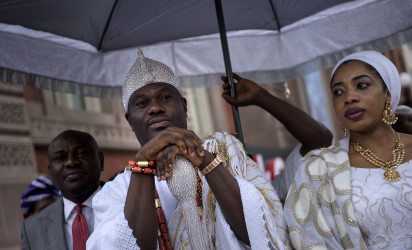 He said he was thrilled by thousands of people that had trooped out to receive him at Aramoko, at the palace of the Alara, and at Ijero, at the palace of the Ajero and thanked the people for their cooperation.
The amphitheatre at the Ewi's palace, where the Ooni was received was filled to capacity with people from all walks of life, including Governor Ayodele Fayose, his deputy, Dr. Kolapo Olubunmi Olusola, Speaker of the House of Assembly, Pastor Kola Oluwawole among many other top government functionaries.
Oba Adejugbe expressed joy at the visit, and recalled that in 1937, Oba Adesoji Aderemi visited the Ewi; in 1980, Oba Olubuse II visited the Ewi and thanked God that in 2016, Oba Ogunwusi has visited.
"I am happy because the visits are not at close intervals and prayed for long life, unity and cooperation among the people of Yorubaland,'' he said.
He particularly commended the Ooni for the meeting of traditional rulers he attended in Osogbo, which he said was a precursor for the unity among Yoruba communities of the South West.
He charged him to continue in that stead to sustain the growing unity among Yoruba people.
Governor Fayose thereafter, expressed joy at the visit and said it was a celebration of a lifetime – an event that so many people will live with for a very long time.
Meanwhile, the Ooni, who earlier in the day had a stopover in Aramoko Ekiti, where he visited the Alara, Oba Adegoke Olu Adeyemi and the Owa Ajero of Ijero Ekiti, Oba Joseph Adebayo Adewole in Ijero Ekiti before making his way to the Ewi of Ado Ekiti, Oba Rufus Adejugbe's palace, canvassed unity in Yoruba land to usher in a new era of peace, unity and development.
He was accompanied to Ekiti State by the Orangun of Ila, Oba Wahab Oyedotun and other traditional rulers in Ife land.
Oba Ogunwusi said he was happy to be in company of the Alara, the Orangun and the Ajero on the same day.