…Says case withdrawn to enable police question suspects, witnesses
By Soni Daniel, Northern Region Editor
In what appears as pyrrhic victory for Senate President, Dr. Bukola Saraki and his deputy, Ike Ekweremadu, the forgery case against them, which the Federal Government surreptitiously withdrew last week, is to be filed afresh by the same government.
However, according to findings by Vanguard, the government will charge the two Senate leaders individually as opposed to the previous one where they were jointly docked.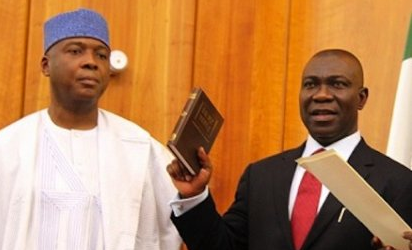 A top Justice Ministry official told Vanguard last night that the case was primarily withdrawn because the Nigeria Police Force, handling the case, was yet to conclude its investigation.
In fact, as the source pointed out, the NPF is yet to interrogate Saraki and Ekweremadu and other officials of the National Assembly said to have masterminded the forgery of the Senate
Rules used in conducting the inauguration of the 8th NASS.
"You can see that under the Criminal Justice Act, the statement of the accused persons and all the witnesses are expected to be filed and it would have been wrong to have pressed ahead with the case when the police are yet to conclude their investigations," the MoJ official pointed out.
"The federal government considered it appropriate to withdraw the case and conclude the investigation and attach both the statements by the accused and the witnesses before filing fresh charges against the suspects.
"We want to strengthen our position and present a solid case against the suspects as required under the Criminal Justice Administration Act," the official told Vanguard.
However when contacted, the Attorney General of the Federation, Mr. Abubakar Malami, confirmed that a fresh charge would only be pressed against the suspects when the government was ready and declined to say.
"I will get back to you on the matter when we are ready," Malami said.
The fresh determination by the government to file charges against the Senate gladiators, appears to have short lived their celebration of the initial abrogation of the charges filed against them.
The withdrawal of the charges had elicited nationwide commentary, fuelling speculations that the Presidency, fingered as the arrowhead of the case, had opted to make peace with the NASS leadership, which it fell out with as a result of their emergence last year.
Former Vice President, Atiku Abubakar, APC National Leader, Asiwaju Tinubu and other Nigerian leaders promptly lauded the move once it was announced.
But the optimism of the leaders appears to have been shortlived with the plan to slam the Senators with fresh charges.