By PRISCA SAM DURU
LITERATURE
Who would have thought a first-time novelist would floor a total of 173 authors comprising both established and emerging authors, to win a whooping $100,000 in a keenly contested Literary prize such as the Nigeria Prize for Literature.
Abubakar Adam Ibrahim, a Journalist and writer recorded this feat when he was announced winner of the 2016 edition of the prestigious The Nigerian Prize for literature by the Advisory Board of the NLNG sponsored Prize led by Professor Ayo Banjo. The announcement was made on Wednesday at a World Press Conference held in Sheraton Hotel, Lagos.
Ibrahim, a journalist, won for his entry, A Season of Crimson Blossoms by beating, Elnathan John's 'Born on a Tuesday'and past winner Chika Unigwe ' Night Dancer'. He was winner of the BBC African Performance Prize, the Amatu Braide Prize for Prose; a Gabriel Garcia Marquez Fellow (2013) and Civitella Ranieri Fellow (2015)
A Season of Crimson Blossom, his first novel is set in conservative northern Nigeria, between a 55-year-old widow, Binta and 25-year-old 'area-boy' Reza, their lives become intertwined when Reza One of the judges of the 2016 NLNG prize for Literature , Professor Banjo, has announced Abubakar Adam Ibrahim as winner of this year's NLNG Nigerian Prize for literature.
Professor Banjo described Abubakar's first novel, A Season of Crimson Blossoms as "as skillful and sympathetic narrative. It was a strong field this year. The shortlisted entries were very strong and the board had no difficulty in accepting the recommendation of the panel of judges, considering the subject matter and competent manner in which Ibrahim demonstrated the execution of his work."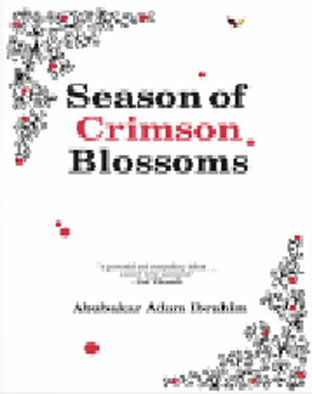 A total of 173 authors of prose fiction entered for the competition this year, which had at the head of its judging panel Prof. Dan Izevbaye, the renowned professor of Literature and literary critic.
The other judges include Asabe Usman Kabir, professor of Oral and African Literatures at Usmanu Danfodiyo University, Sokoto and Isidore Diala, professor of African Literature in the Department of English, Imo State University, Owerri. The international consultant, Prof. Kojo Senanu of the University of Legon, is an internationally acclaimed scholar.
Reacting to the announcement, the General Manager, External Relations at NLNG, Kudo Eresia-Eke, said: "It has been a very rigorous process and we are very happy that at the end of the day, both the international consultant and panel of judges came to an alignment. We are very proud of the quality of entries received.
"Let me reiterate very clearly that we will continue to support integrity and excellence, which are some of the pillars we have built NLNG's success as a company on."
Celebrating literary excellence for the twelfth year running, the Nigeria Prize for Literature has since 2004 rewarded eminent writers such as Gabriel Okara; Ezenwa Ohaeto); Ahmed Yerima; Mabel Segun ; and Akachi Adimora-Ezeigbo. Also, Kaine Agary; Esiaba Irobi; Adeleke Adeyemi ; Chika Unigwe.
The Nigeria Prize for Literature rotates yearly amongst four literary genres – prose fiction, poetry, drama and children's literature. The 2016 Prize is for prose fiction and comes with a cash prize of $100, 000. Next year's prize will be for poetry.
Subscribe for latest Videos