Experts in the movie industry in Nigeria have called for the participation of more women in film making, to encourage the younger generation of women.
They made the call on Thursday in Abuja at the ongoing 13th Abuja International Film Festival.
Mrs Evelyn Otaigbe, an Award Winning Filmmaker, in her paper, entitled "Women in the Film Making Industry", stressed the need for more women to take up the role of script writing.
According to her, men most of the time, showcase the negative side of women and thereby pass the wrong message to the public.
"We need more female script writers because the men write stories portraying the women as gossips, husband snatchers, those that cannot do anything when their husbands pass on.
"The men put women in that box and that is not who we are; men don't really know us.
"If we have more female script writers, they will write from the perspective of women."
The filmmaker said that such stories told to the public perpetually put women down, adding that they did not impact on the upcoming generation.
She added that if films were used as change agents, they would project the positive side of the people.
"Films can be used as change agents; they can be used for socio-economic development and if we are looking at films for development, you don't tell negative stories that put people down.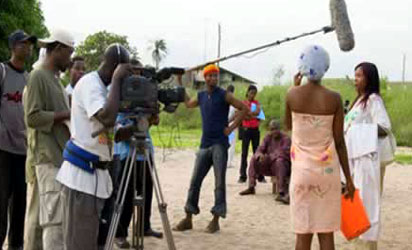 "We should tell stories that encourage women and everybody else, stories that will make the society grow, change the mind set of what men think.
"We should reduce the juju or voodoo stories because when you keep telling a lie for so long, people will start seeing it to be true."
The expert, however, said that challenges encountered by filmmakers were not peculiar to women.
According to her, it is necessary that younger women get educated in everything they wish to venture into, adding that training will project their capabilities.
"We have general challenges in the film industry and they don't only pertain to women, the men go through the same challenges as well.
"We have basic challenges like funding, getting good locations, because we don't really have much studios or a film village for shooting, distribution and marketing.
"We encourage young actors to get education because education is the key to everything; they should be good in what they are doing in acting, writing and production."
Otaigbe advised younger women who would want to choose a career in film making not to cheapen themselves before male filmmakers so as to be given a role in movies.
She said that women who cheapened themselves hardly got famous.
"As women, we don't have to bare it all to be accepted by a film maker."
She advised men to ensure that women merit roles given to them.
"God made all of us one and we are equal; women are strong, beautiful, and intelligent and we don't have the need to prove ourselves.
"If a man wants to offer you sex before you get a role, you refuse it and walk away; if you are good they will come chasing you.
"Young women should get training and have passion for what they do; in that way, nobody can bluff them.
"It is because some of them don't have training that they want to use their curves and beautiful faces to get into films and you don't become a star by using those means."
Ms Atofa Edjeani, a filmmaker with Gollywood, said that film making was a calling, adding that women had the capacity to do more than what the men could.
Edjeani further said that women in film making were not in competition with men but it showed that women were strong.
She, however, called on the general public to give women the chance to showcase their talents.