By Japhet Alakam
AFTER participating in many group exhibitions, Imo State born artist, Ernest Nkwocha last week broke the jinx when he held his first solo exhibition tagged Me and My Environment, an exhibition of Sculptures,
Drawings and Prints. The exhibition which opened at the Nike Art Gallery, Lekki, on 24th  September  and ended on 30th, was indeed a rich display of hard work, beauty and strength in creativity as art lovers and other visitors viewed with awesome the works that come out from the Ajegunle city of Lagos.
For Earnest, who is known for his creative use of discarded materials, especially tyres, to create beautiful and engaging art works, in this exhibition made a bold statement that Nigeria can really come out of the present recession if the right things are done. Ordinarily, discarded tyres are of no real use. Rather, they should be thrown away, but the way he converted worn out tyres into useful materials for aesthetic and utility purposes in figurative sculptures, furniture, and other challenging media is a clear indication that given the chance Nigerians have all it takes to transform the nation.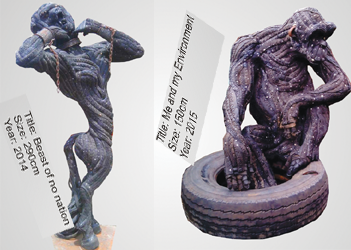 Featuring about 20 works, mainly sculptures and drawings which are the result of about four years of experimenting on the medium from an artist who said that he loves junk sculpture and converting wastes to make people appreciate it in an artistic manner. Some of the works include, Encroach'ent', 'United', 'False Prophet', 'Na You Sabi', Beast of no nation 1 and 2, Me and my self and I, Self esteem, Reflection, Chims in Blue, among others.
Speaking about the exhibition, Earnest said that, "I came from Ajegunle and people see it as a place where nothing good comes from. So I am using this exhibition to let people know that despite the bad notions about Ajegunle, good things can still come out of it. So by converting waste to wealth or thrash to treasure, it all means that from that place where people feel that nothing good can come from, something good can still come out of it."
On the choice of Nike Gallery, he said that it is the only gallery that can accommodate his big works because of its space.
On one of the works, Reflection, which depicts a lion putting on a suit and tie, "I try to make people understand that putting on a suit does not make one a gentleman. When people see people on suit, they see them as gentlemen but on a closer look, you find out that they are not," he said.
On his part, Dotun Alabi, the curator said, "Earnest has put in a lot of hard work to come up with this exhibition. From the works exhibited, you must see that most of them are impressive. A very young hard working artist, he has transformed what we see as discarded tyres or waste products into a thing of beauty. Another thing you can say about his personality is his dexterity. You can see the way he has twisted the materials to come up with something good.
"Also, his noticeable love for wild life as it appears in most of his works. They are in the form of metaphor for human character or behaviour.  If you look at the giraffe, you see the elegance, the earrings, long neck which are some yardsticks for beauty. Here, the Lion is used as a metaphor, when you see a lion in suit, you will be wondering what type of thing is that. Lion is wild and aggressive and in the same way we can see that in human nature. When you have some of the chief executive officers and top executives making some life changing decisions in an aggressive manner, sometimes, it is not to the benefit of the masses.