By Sola Ogundipe, Chioma Obinna & Gabriel Olawale
All over the world, drug   counterfeiting is a potentially deadly phenomenon. In Nigeria  it undermines every aspect of medical treatment and health care delivery and is a major cause of suffering and death. The problem of fake, counterfeit, spurious, unwholesome and adulterated drugs has rocked the Nigerian health care system for years on end.
Drug counterfeiting contributed negatively  to the wellbeing of the average Nigerian that former Director General of the National Agency for Food and Drug Administration and Control, NAFDAC, the late Prof. Dora Akunyili described it as an act equivalent to mass murder.
From a health provider's point of view,  counterfeit drugs are bad news. They erode confidence of the patient in the health provider. Opinion from the end user's standpoint is no different – counterfeit drugs are dangerous; they  waste scarce and hard-earned resources, cause treatment to be ineffective, potentially harm the health of the patient. There is no universal description of counterfeit drugs, but basically, it is a global phenomenon. Counterfeited drugs are dangerous not because of their counterfeit nature, but because of how they are created.
What are counterfeit drugs?
A counterfeit drug, by definition, is one that has been made by someone other than the genuine manufacturer. It is done by either copying the formulation of the drug or imitating it without permission to do so.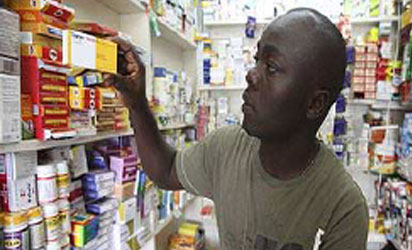 Often, the purpose is to defraud through profiteering. Drug counterfeiting causes therapeutic failure, drug resistance and economic sabotage. Many counterfeits don't have the active ingredients that the packets claim they have. Some even have the wrong ingredients, while others have incorrect quantities of the correct ingredients. According to the World Health Organisation, WHO, counterfeit drugs are those "that have been deliberately or fraudulently mislabelled with respect to identity and/or source". The products can include incorrect ingredients, wrongly stated amount of active ingredients, or can be manufactured under circumstances that lack quality control.
It is known that more than 30 percent of the counterfeit drugs that are available today don't contain any active ingredients whatsoever. "Counterfeit drugs  include preparations without active ingredients, toxic preparations, relabeled expired drugs, drugs issued without complete manufacturing information", a pharmacist explained. The WHO estimates that  currently, 16 per cent of all counterfeit drugs contain the wrong ingredients, while 17 per cent contain the wrong levels of necessary ingredients.
High profits,  low penalties
With nearly $1 trillion in drug sales annually, counterfeiting is a gold mine.  Although, drug counterfeiting is adjudged to be more dangerous but just as lucrative as the narcotics business, the penalty is less severe.
In Nigeria, a counterfeiter is allowed to pay a fine option of N100, 000. Health watchers say the appropriate penalty for counterfeiting could be an effective deterrent, sadly, the penalty for manufacturing or distributing counterfeit drugs is rather lenient. Counterfeiting  is punishable by imprisonment for between 3 months to 5 years or alternatively a fine of N100, 000 is imposed. Comparatively, in China, counterfeiting attracts the death penalty. Such a weak and incongruous penalty is incapable of making any great impact in preventing this lucrative crime. NAFDAC has recommended  life imprisonment and forfeiture of assets of the offender to compensate the victims. The National Assembly is yet to pass this  into law.
Nigerian burden: A study conducted in 1990 by the former WHO Deputy Director, Prof Adeoye Lambo showed that 54 percent of drugs in major pharmacies in the country were counterfeits. In 1997 another study on chloroquine formulations sampled from Nigeria found that two of the formulations did not contain any active ingredient and were classified counterfeit.
It would be recalled that a survey of the quality of anti-malaria in Sub-Sahara Africa undertaken by WHO in 2008 showed 64 percent incidence of fake and counterfeit anti-malaria in Nigeria and other 13 African countries.
Over the years, NAFDAC, tackled the counterfeiting problem head-on and the burden   improved from 41 percent in 2002 through 16.7 per cent in 2006.
Counterfeit drugs in circulation dropped from 19.6 percent in 2012 to 3.6 percent in 2015. But these achievements may be going to waste following the return of drug counterfeiting with  vengeance in the country. Findings reveal that an estimated 10–30 per cent of medicines sold in the open market are counterfeit.
Return of counterfeits: Recent studies show that the quality of medicines on sale in Nigeria leaves much to be desired. Seizures of counterfeit drugs running into billions and shutting the unlicensed drug outlets has not solved the problem.
Detection of counterfeits has become more difficult as counterfeiters have got more sophisticated, cloning  holograms and other security features. Some of the counterfeiters are clever enough to  add active ingredients that pass quality test controls but don't provide user benefits.
Today, the business of  drug counterfeiting has resumed its  lucrative streak, no thanks to  a plethora of problems beginning with ineffective enforcement of regulatory laws, antics of unqualified drug vendors,  high cost of genuine drugs,  illegal drug importation, a chaotic drug distribution network, among many others. Findings reveal that over 50 percent of the drugs utilised by patients in Nigeria are purchased from the private places where control is virtually impossible hence the invasion by counterfeiters.
Other causes of widespread drug counterfeiting include corruption, inadequate technology for protection of the identity of genuine drugs as well as lack of political will including lack of vigilance and advocacy by the healthcare providers.
Industry watchers add that the absence of a substantive headship (Director General) of NAFDAC is worsening the situation.
Almost at every corner, it is common to come across a drug hawker even under the full glare of law enforcement agencies.
Today, one would wonder why Nigeria that prides herself as a country with a world class drug regulatory agency is not utilising the agency's potential. Currently, NAFDAC is without an active head and counterfeiters are having a field day even as consumers are running from pillar to post. One striking thing about drug counterfeiting is just like other crimes, it is an underground business that often comes to light only when deaths occur.
Health impact: The Chief Executive, Hesstee Pharmacy, Dr. Adesoji Adegbite, a drug is one of the major aspects of medical treatment irrespective of the patient's condition and when this is mishandled it becomes another source of treatment failure and in some cases leads to death.
Adegbite said the chaotic drug distribution in Nigeria has continued to fuel treatment failure, drug resistant, mortality and morbidity. The pharmacist observed that the chaotic distribution has become a monster that has bedevilled professionals and consumers alike. "Drug is not sweet. It is a poison. You cannot play with it. It has to be regulated. A tiny drug can kill or maim if not used properly. Chaotic distribution system has allowed fake drugs to be. It is because we do not have good records in Nigeria many people  dying now may have died of fake drugs. The system has made every player in the chain including the patients a loser," he said.
"In every layer of distribution in Nigeria, the rules have not been followed. A manufacturer is ready to under play other players within the channel and at the end of the day everybody becomes a loser."
Way forward: He posited that the only way to correct the anomalies is to embrace the new concept 'National Drug Distribution Guidelines, NDDG, to eradicate this hydra headed monster.
Also in the views of the Chairman of Association of Community Pharmacists of Nigeria, Pharm. Abiola Paul-Ozieh, the health risks of fake drugs include antibiotic resistance, therapeutic failure, toxic effects and even deaths.
Treatment  failures
 "Treatment failure rates are so high. The drug abuse and the misuse among the society and resistant has developed on the use of many drugs. Everything is traceable to the distribution and uncoordinated system."
Chairman, ACPN, Lagos, Pharm. Biola Paul – Ozieh said drug distribution system is a great embarrassment not only to Nigeria but to individuals, the consumers and the patients.
She recalled that the implementation of the National Drug Distribution Guidelines, NDDG, was planned to take effect immediately from the day of launching but till this date, it was shifted following an outcry by a section of the supply chain.
"The vision of the proponents of the NDDG that government would have overcome a major challenge of uncoordinated drug distribution in Nigeria if NDGG is systematically implemented."
For Nigerians, the problem is one of health. Malaria drugs and antibiotics are among  the most popular drugs that have been counterfeited. The easiest, best way for the average person to avoid counterfeit drugs is to purchase what is needed from approved pharmacists. And you may need a doctor's prescription
Nigerian consumers need to be more aware of the danger of counterfeit drugs. Awareness is key. The public awareness drive of the past should be brought back to encourage people to report suspicious drugs.