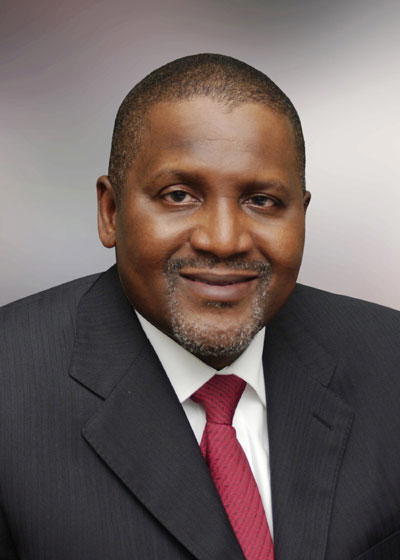 Alhaji Aliko Dangote
Lagos – Mr Aliko Dangote, Chairman, Dangote Group, says 98 per cent of all dairy products consumed in the country are imported.
Dangote made this assertion in lagos on Monday while addressing some students of the Executive MBA class of the Lagos Business School who visited the Dangote Petrochemical Refinery.
He said that the nation was at the risk of hunger in the next few years if the mass food importation was not checked.
"Ninety-eight per cent of all the milk and dairy products we consume in Nigeria are imported.
"This is why Dangote Group has planned to develop dairy plants, and develop homegrown milk production, to reduce importation.
"By 2020, it is estimated that the Nigerian population would have risen to between 207 million and 210 million. If we do not make efforts to grow and process our own foods, God forbid, we will go hungry.
"We have been in talks with the Central Bank of Nigeria (CBN) on ways we can add value to our local produce, and we have marked massive dairy production for the next three years.
"We cannot solve all Nigeria's problems, but at least we can embrace and add value to areas where we have comparative advantage, " Dangote said.
He said that Dangote Group was the most capitalised company on the stock exchange, with investments which include six ongoing projects that would create not less than 250,000 jobs across the nation.
He said that the refinery, which primarily majored in gas plants, petrochemicals and fertilizer production, could generate an annual foreign exchange savings and earnings of 15 billion dollars.
He said it would also generate up to 1500 direct jobs and 15,000 indirect jobs in support services and logistics, which would also include up to 22,000 housing facilities.
Dangote also said that the East West Onshore Gas Gathering Section (EWOGGS) pipeline of the refinery was a three-billion dollar investment specially dedicated to generate 12,000 mega watts of power for industries.
He urged the students and other potential entrepreneurs to endeavour to venture into businesses that they are familiar with. (NAN)