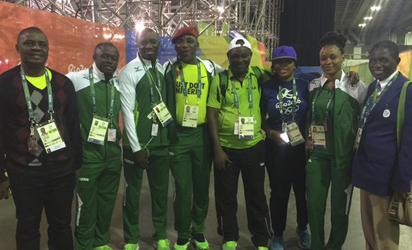 Solomon Dalung and some Nigerian athletes at Rio 2016 Olympics Photo Funke-Oshonaike
By Jude Opara, Abuja
Still basking in the euphoria of the unprecedented performance of the Team Nigeria to the just concluded 2016 Paralympic Games in Rio, president of the Paralympic Federation of Nigeria, Monday Emoghare said the contingent did so well because the federation is equally managed by those who understand the day to day needs of the athletes.
Emoghare who himself is a former Paralympic gold medallist in power lifting told Sports Vanguard that the 8 gold, 2 silver ad 2 bronze medals won by the contingent was not a fluke but a product of proper planning by the leadership of the federation.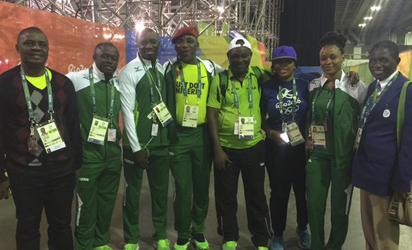 Speaking at the sidelines of the event organized by the Kpakpando Foundation to honour the Senior Special Adviser to the President on Persons with Disabilities, Dr. Samuel Alkali, Emoghare said despite the poor camping condition, they were able to inspire the athletes because they believed and trusted them.
"The Paralympians did well because we are now leading the federation. The athletes trusted and believed that we truly wanted the best for them, so they were able to land well because we led by example."
Before now we have had doctors and professors lead this federation but it has never been this good."
In his message at the occasion, Dr. Alkali said the federal government is happy with the achievement of the athletes even as he added that by their effort they have once more demonstrated that there is ability even in disability.
He thanked the Kpakpando Foundation for giving the opportunity to the physically challenged Nigerians to showcase their God given talents, even as he called on other Nigerians to emulate the gesture.
Also the founder of the Kpakpando Foundation, Senator Osita Izunaso said he will continue to identify with the physically challenged because they were unfortunate to find themselves in their present condition.
He also revealed that his foundation will honour all the medallists from the Paralympics of which three members of the foundation were among the 8 gold medallists.