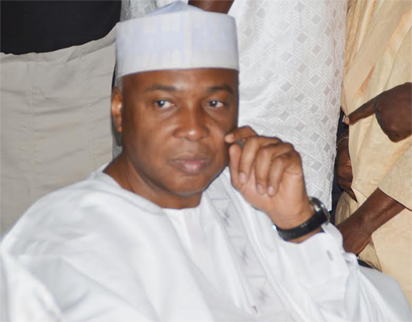 Saraki
By Demola Akinyemi
ILORIN—THE Senate President, Dr. Bukola Saraki, during Sallah break in Ilorin, the Kwara State capital, distributed empowerment materials worth N250 million to select beneficiaries across the state.
Items distributed to beneficiaries across party divides include 80 tricycles, 1,777 grinding machines, 664 sewing machines, among others.
The empowerment scheme, according to the Senate President, was designed to alleviate poverty and equip the less-privileged to be economically self-reliant.
Saraki was represented at the distribution of the items, which took place at his mandate constituency office, by the state Chair-man of All Progressives Congress, APC, Alhaji Ishola Balogun-Fulani.
He said the gesture was in fulfillment of his electioneering campaign promise.
Saraki advised the beneficiaries to use the items judiciously, so it could uplift them economically.
The Director-General, Mandate Constituency Office, Abdulwahab Issa, in his remark, said beneficiaries include women associations, taxi drivers association, Hausa groups, Igbo groups, Suru and Fulani groups.
Others were members of Nigeria Union of Teachers, NUT; Nigeria Labour Congress, NLC; Nigeria Association of Local Government Employees, NULGE, and Ilorin Emirate Descendants Progressive Union, IEDPU.