The Corps Marshal of the Federal Road Safety Commission, Boboye Oyeyemi, on Sunday listed emergency phone numbers for travellers. He also wished Nigerians, especially Muslim faithful, a safe Sallah celebration.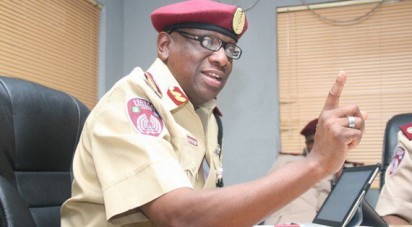 In a Sallah message signed by FRSC's spokesperson, Bisi Kazeem, Mr. Oyeyemi said adequate logistics provisions had been put in place to tackle road traffic obstructions for a crash-free celebration.
Mr. Oyeyemi cautioned motorists against dangerous driving, overloading and speed limit violation which he said were the major causes of road traffic crashes in the country.
He said the significance of Sallah is centered around devotion and obedience to the will of Allah, which Prophet Ibrahim exemplified by his willingness to sacrifice his son Ismail.
Mr. Oyeyemi said there were great lessons to be learnt from the obedience showed to God by Prophet Ibrahim even in the modern era.
"Eid-El Kabir celebration teaches us how to show obedience to God in all that we do as human beings," Mr. Kazeem quoted Mr. Oyeyemi as saying.
"As the Muslim Ummah observe the feast, let everyone celebrate with the spirit of obedience to God and recognise the sanctity of human lives by obeying all traffic rules and regulations and avoiding acts capable of undermining safety of other road users.
"People should, therefore, avoid overloading, speed limit violation, dangerous driving and phoning/texting while driving and also avoid the use of worn-out/expired tyres.
"As a build up towards October 1 commencement of nationwide enforcement, he also urged commercial vehicles operators to install speed limiting device, because it is only the living that can celebrate," he said.
Mr. Oyeyemi implored Nigerians to assist traffic officers and security personnel deployed to manage the traffic by conducting themselves in safe and orderly manner. He said FRSC patrol and rescue teams have been put on alert to assist road travellers, while the help areas/roadside clinics across the country would remain open to attend to emergencies.
Mr. Oyeyemi said members of the public should notify FRSC of any urgent situation through its emergency line: 0700-CALL-FRSC (0700-22553772) or Toll-free line: 122 for immediate response.