By Gabriel Ewepu
ABUJA- THE Minister of Agriculture and Rural Development, Chief Audu Ogbeh, Monday, said that Nigerians are very troubled, angry, hungry and want the situation changed.
The minister made this during a summon of Agric commissioners from the 17 States and Federal Capital Territory, FCT, over an outbreak of locusts in Niger Republic.
Ogbeh said the meeting became urgent after officials from Niger Republic alerted the Ministry over the invasion of locusts and grasshoppers in their farms.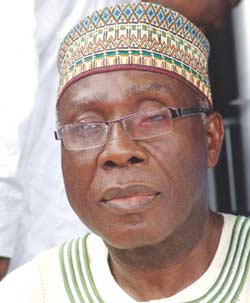 Commissioners from Adamawa, Borno, Jigawa, Zamfara, Yobe, Kano, Kaduna, Kogi, Kebbi, Plateau, Bauchi, Sokoto, Enugu, Delta, Anambra, Rivers and Bayelsa States were present at the meeting.
The Minister said the meeting was to immediately come up with solutions to prevent locust invasion and quelea-birds following the bumper harvest envisaged to tackle the present hunger in Nigeria.
He said: "We have called you for two major reasons first we have received infromation that locusts and quelea-birds are messing up in Niger Republic from where they normally attack us in Nigeria.
"As you know through the efforts some of you are making grain production is increasing steadily especially in the northern part. But you also know how dangerous quelea birds can be and locusts.
"If they arrive within minutes they can wipe out what our farmers have put in the field. Now the price of food is very high today and Nigerians are very troubled. People are very angry and they speak on the television and over the radio, write in newspapers, they are hungry and want that situation resolved.
"Now I believe the efforts you are making we are getting to the promised land."
The Minister said there maybe problem if urgent steps were not taking to stop the invasion locusts, quelea-birds, army-worms and avian influenza.
"The reason for this meeting is how to urgently attack the locusts and not even in Nigeria but from Niger Republic. And you have to be out the look out.
"We have the Niger-Nigeria Commission and we have been in contact with people in Niger Republic to see what we can do immediately to make sure that the pest don't arrive here. Now I am told that Niger Republic has aircraft and we used to have some but now we use some private sector service providers, we have chemicals so that we can attack these pests.
"We will get to work and to deploy resources for this fight against the pests before they arrive our shores. Mr President has also written that we move quickly to arrest the menace of locusts, quelea-birds, grasshoppers, and to liaise with the governors in view of the extent of operational and financial support required. So we want to that", he stated.
However, according to the commissioners quelea-birds, army-worms and grasshoppers have invaded Jigawa, Sokoto, Zamfara, Cross River, Yobe, Kano, Borno, Benue,Kebbi, Enugu States, and others.
They said efforts have been made to arrest the situation and have also reported to the Federal Ministry of Agric.
The commission came up with various measures on how to launch the attack on the pests and protect farmlands, which the Minister promised soon to deploy resources to stop the menace.