*Says state legislators 'next to useless'
By Omeiza Ajayi
ABUJA —Former governor of Akwa Ibom State, Obong Victor Attah, has spoken against the advocacy for the National Assembly to be operated on a part-time basis, saying if the lawmakers must be effective, they must operate on a full-time scale.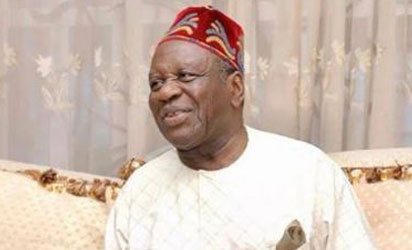 This was even as he took a swipe at the state Houses of Assembly, describing them as only "next to useless."
Attah, who spoke with Vanguard in Abuja, yesterday, advanced several reasons the business of lawmaking should not be made part-time.
He said: "I want to look at the reasons they should be part-time or not, rather than jump up to say I agree or I do not agree. It is not new. At the last national conference in 2014, there were people that suggested that we should go unicameral and there were those who said it should be part-time and there were a lot of arguments and in the end, it was agreed that the status quo should remain.
"In this country, quiet often, we jump to decisions without giving sufficient thoughts to the conclusions we reached. If I look at the issue of making laws for the country, it is not a matter of a bill comes, you do not study it, then you just go to the nays have it or the ayes have it.
"This is where the legislature, in my opinion, has not really been as effective as it ought to be. Take a man like Edward Kennedy, he was a senator for Massachusetts for years and whenever he went there, he was made chairman of a particular committee and that committee was a very critical one.
"By the time he had been in the Senate for that length of time, he knew exactly what the American position was on certain things and could properly guide the Senate and the President on those areas.
"Making laws is not a matter of just earning so much money. You have to study what the bill before you is suggesting; you have to be familiar with the areas of concern in that bill to make a proper judgment, rather than rushing into rash judgments that tomorrow we want to change again.
"If legislators are to do their work properly and be effective, for the reasons I have given, they have to be full-time and I really do not believe that the issue of how much they spend depends on this part-time or full-time system.
"Supposing they are part-time and we still allow them to have all their allowances for house, newspapers, entertainment, constituency allowance and so on, what have you achieved other than ineffectiveness? If legislators must be effective, they have to be full-time."
Houses of Assembly, next to useless
Attah also accused state legislatures of being stooges of most governors, querying why state assemblies have to be saddled with making laws for local councils when such councils had elected councillors who constituted their legislative arm.
He said: "The state assemblies are, please pardon me, next to useless because they do not provide any kind of oversight function anymore. They used to at some point but because they are handpicked by the governors and put there in the house. So, whatever the governor wants is what the assembly would do.
"That is not what they are supposed to be. They are supposed to provide checks and balances on an errant governor but they are not doing that and it started with the fact that we did not lay a good foundation for democracy to thrive.
"If under Obasanjo, Houses of Assembly were induced to come to Abuja to impeach governors and all kinds of things; that is how we started to go wrong."