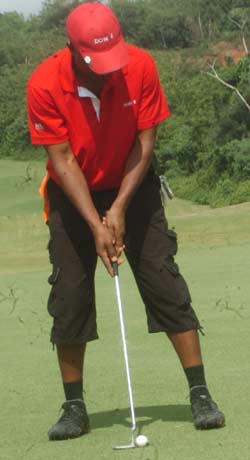 SET TO PUTT….Frank Ezenwah about to putt at the Ist Smokin Hills golf tournament in Ilara-Mokin, Ondo State on September 21. PHOTO; Kehinde Gbadamosi
By Victor Otti
ALL roads lead to the  magnificent Ikoyi Club 1938 golf course as the 20th Nigeria Cup tees off this  Saturday.
Over 400 golfers will compete for honours at the week-long event which will involve amateur, the ladies, the caddies, the veterans and the professionals.
Chairman of the Organising Committee and Vice Captain of Golf Section, Ikoyi Club 1938, Bayo Ali said yesterday in Lagos that the event, which is a baby of Ikoyi Golf Community Nigeria Association (IGCNA), is the club's way of celebrating Nigeria's independence.
"Despite all the challenges as a nation, Nigeria is worth celebrating," Ali said.
He said events will kick off with the juniors competition on Saturday. This will be followed by the caddies competition on September 26 while the ladies competition will take the centre stage on the September 27.
Nigeria Cup Kitty competition will hold the next day, September 28 and on September 29 the professionals and amateurs will take their turn in the ProAm competition.
The guests and the veterans take to the course on  September 30 while the grand finale of the Nigeria Cup holds on October 1. Gala Night and award presentation ceremony will hold on Sunday, October 2 at the Ikoyi Club 1938.