By Emma Ujah, Abuja Bureau Chief
The Managing Director of the International Monetary Fund (IMF), Ms. Christine Lagarde, has appointed Abebe Aemro Selassie as Director of the IMF's African Department. Mr. Selassie, who was Deputy Director in the Department until the appointment, is expected to begin his work in the new capacity on September 19, 2016.
He succeeds Ms. Antoinette Sayeh, (a Liberian economist), whose departure was announced previously.
"Abe brings a profound understanding of the challenges facing Africa, having worked closely with policymakers from across the region for much of his career. His proven ability to provide intellectual leadership, track record of building collaborative relationships, analytical depth, and warm collegiality make him ideally placed to lead the IMF's work with our membership in sub-Saharan Africa. Having had the opportunity to work with Abe over the last five years, I have been struck by his sound judgment, integrity, and commitment to teamwork.
"The IMF remains deeply committed to serving our members in Africa. Abe will bring a unique blend of extensive knowledge and experience to his new position as Director of the African Department," the Fund's External Affairs Unit quoted Ms. Lagarde as saying, in a statement, Thursday.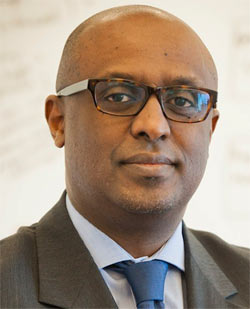 Mr. Selassie's career has spanned the private sector, government, and the IMF. During his time in the IMF's African Department, he was senior resident representative in Uganda, served as Mission Chief for South Africa, led work on the Regional Economic Outlook, and worked in various roles on countries ranging from Cote D'Ivoire, Ghana, and Kenya, to Burkina Faso, Guinea, Liberia, and Sierra Leone. Most recently, Mr. Selassie oversaw the IMF's effort to assist the three Ebola-stricken countries.
Mr. Selassie also brings extensive operational and policy experience from his assignments in other IMF departments, including the Strategy, Policy and Review Department and the European Department. He worked on Turkey and Poland between 1999 and 2003, and was Assistant Director and mission chief for Portugal during the Eurozone crisis. He has also worked on low-income country and emerging-market program and policy design issues.
Before joining the IMF, Mr. Selassie worked for the Economist Intelligence Unit, specializing in sovereign credit risk issues, and then for the Ethiopian government as Principal Economist in the Office of the President. He holds a B.A. in Economics from City of London Polytechnic and a Masters in Economic History from London School of Economics.