By Wale Akinola
As part of its efforts to replace subsisting farming with commercial agriculture, the Jigawa state government has introduced cluster farming initiative where four target crops comprising rice, groundnuts, sesame, and soya beans were identified as core areas of competitive advantage in the state.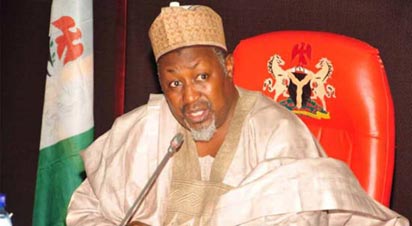 In its bid to boost food production and diversify its economic base, the Jigawa state government has adopted cluster farming techniques as core strategy towards achieving food security and transforming the state from the current subsistence farming to commercial agriculture.
Under the system, clusters are developed in each of the 287 wards in the 27 local government areas of the state as demonstration farms. In each of the 27 local government areas, 50 hectares of farmlands are provided as clusters with 20 to 30 farmers organized into a cluster depending on their farm size.
These farmers are then facilitated with insecticides, fertilizer, improved seedlings and training to achieve a minimum target per hectare. Extension workers were also deployed across the 20,000 hectares demonstration farms to provide expertise to these groups of farmers.
It is estimated that with the introduction of this scheme average yield per hectare in the state will reach 10 tonnes per hectare for rice in the next few years.
Presently, our reporter observed in one of the cluster farms that 8.5 tonnes of rice was cultivated instead of 3.5 tonnes per hectare last year. Malam Ibrahim Gude said the new techniques have proved effective as his produce has multiplied when compared to last years' yield. 'I was able to cultivate 9.5 tonnes per hectare this year with the adoption of the new techniques.
Last year, in the same farm, I got 3-4 tonnes per hectare but as you can see the same farm produced 8.5 tonnes per hectare' He said
The farmer, who said he has been farming for over 30 years, described the newly introduced system as effective, welcome and a morale booster to all farmers in the state. ' Presently, our produce increase is amazing with groundnuts rising from 1 tonnes per hectare to 3 tonnes and sesame from mere 900 kg to 3 tonnes really encourage us to invest more in the sector', he said.
Another farmer, Hussaini Abdullahi said since 1975 when he started farming he has never seen a committed and serious effort as the one introduced by the Jigawa state government. ' I have never seen a government that introduced something similar to this for the entire 40 years I have spent farming', he added.
According to Malam Abdullahi, last year, in the same farm, his total rice production was 70 tonnes in a farm that is 20 hectares but ' I was able to cultivate 190 tonnes this year, thanks to the new improved farming techniques we were introduced to by the state government', he enthused.
Another farmer who spoke to newsmen, Malam Bulama Mukaddari explained that the introduction of the cluster farming techniques has revolutionized farming and made it attractive to youths in the area. 'My yield recorded over 300% increase with the same investment last year and this has attracted my children and I think it will now be easier for them to engage in farming after seeing the level of benefit I recorded this year', he said.
Governor Muhammed Badaru Abubakar explained the rationale behind the introduction of cluster farming in the state. 'We have decided to demonstrate with the cluster farming which is a success in Brazil, Thailand and Argentina and in our demonstration farms, we cultivated rice and amazingly achieved a 300% increase in yield per hectare in some farms and on the average yield is 7.5 tons per hectare for rice.
The governor said the essence of clustering is to aggregate inputs, mechanization and extension service delivery and to accord participating farmers the advantage of group dynamics. Farmers individual farm holdings are measured and precise coordinates taken and they are organized together in clusters of about 50 hectares with leaders identified within the group.
Depending on which crop sector they fall in, they are given certified seeds and other inputs based on their individual farm size and this is recorded in the group database for subsequent repayment at harvest. Their harvest uptake is guaranteed by the state government through negotiated off take with identified buyers and processors.
The next phase of this program is to rearrange the individual farms within the cluster into a leveled and symmetric farm formation with access roads,irrigation channels and drains provided so that each farmer gets his original land holding but under a more structured arrangement within the group and provided with a certificate of occupancy in line with the simplified land titling and registration (SLTR) program being carried out by the state government and DFID.
This initiative will rapidly transform farming from a barely profitable back breaking activity to a well structured agricultural model benefiting from mechanization, quality inputs and extension service and a guaranteed market. Consistency in quality and availability in large quantity will not only enable us negotiate good prices in the short term, but will eventually lead to the migration of processing capacity to complete the cycle.
Scarcity of resources has forced many people in the state to embrace farming in view of the fact that 90% of the population of the state are already reliant on subsistence farming according to 2015 National Bureau of Statistic report.
Investigation by our reporter shows that this year, the state government has budgeted 7.8% of its entire budgetary allocation to the agriculture sector. Crop production, livestock development, irrigation and rainy season farming have been identified as core areas that will be targeted in the next four years. Our reporter also confirmed from Ministry officials that the Governor personally and consistently chairs an Agric council meeting every Monday to monitor progress of these initiatives and sporadically pays unscheduled visits to clusters and agric schemes across the state. He has also appointed two special advisers on Rice and Wheat production to give the two principal crops the focus required to achieve the FGN target.
Already, according to the state's Agriculture Commissioner, Alhaji Kabiru Ali, 4000 metric tonnes of assorted fertilizer have been shared through newly introduced modalities that disregard party affiliation as a condition.