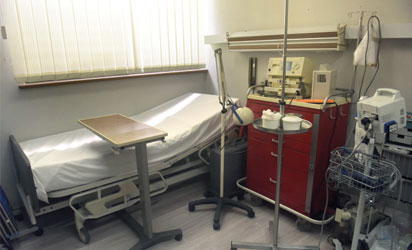 A photo taken on October 21, 2014 shows the ward where the first reported case of the Ebola virus in Nigeria was brought by Liberian-American Patrick Sawyer who contaminated nurses and health workers at First Consultants Hospital in Obalende, Lagos. Nigeria was declared Ebola-free on October 20 in a "spectacular success" in the battle to contain the spread of a virus which is devastating Guinea, Sierra Leone and Liberia where more than 4,500 people have died. The World Health Organization said Nigeria — Africa's most populous country where eight deaths had sparked fears of a rapid spread through its teeming cities — had shown the world "that Ebola can be contained". AFP PHOTO
AN exhibition and conference showcasing the  state of the Nigerian  health sector opens in Abuja Monday 19 September, 2016.
The exhibition designed to focus on the best medical care and technological support enterprises in Nigeria, themed:   "All Things Medical" (ATM) is being put together by the Federal Ministry of Health in collaboration with the Nigeria Medical Association (NMA), Association of General and Private Medical Practitioners of Nigeria , AGPMPM, and the Guild of Medical Directors.
A renowned neurosurgeon and Chief Medical Director of the first private neurosurgical centre in Nigeria, Memphys, Professor Sam Ohaegbulam, said the exhibition is timely as information and statistics about what is available in Nigeria is the bedrock of a viable and functional healthcare system.
"There is the issue with medical tourism. Doctors have highlighted the dangers of going to places such as India, South Africa, United Kingdom and Egypt for medical treatment. They pointed out the problems of traveling to these countries without proper information about the doctors, their qualifications and experience. In effect, running to India is not the solution, especially if what you need is in Sokoto."
The MD, Alliance Hospital, Abuja, Dr Chris Otabor, emphasised the need for more information about high quality healthcare personnel and facilities in Nigeria.
"We need positive documentation of the good practices and an end to the bad practices. We have to help our health centres, government hospitals or even private hospitals to be the best they can be.
"Say stop to medical tourism. Join us to stop losing huge resources that is better applied to help our own development. We must encourage the development of our own local health care industry and the first step is ATM. Thereafter, we must put an end to medical tourism. Government should not sponsor anybody to go and get treatment abroad unless, of course, that treatment is what we cannot offer, "he added.