By Ebele Orakpo
TO make the life and job of staff and patients at the Federal Medical Centre, Yola, easier and more efficient, two Software Engineering graduates of the American University of Nigeria (AUN) in Yola, developed an app, NHIS PATEXP, in keeping with the university's mission as a development university.
As a development university, AUN students are mentored to look at problems in the communities and then go back to the classrooms to devise means of solving them, thereby impacting the communities positively.
Having observed how staff at the FMC, Yola struggle to deliver quality service to beneficiaries of the National Health Insurance Scheme service,  Emmanuel Zidafamor and Samuel Ubaneche, decided to provide a solution.
The App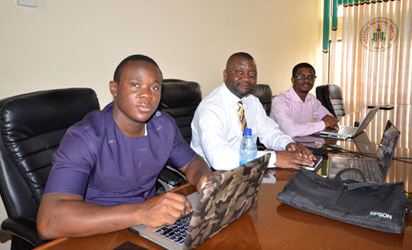 According to the duo, the app, "NHIS PATEXP (Patient Experience), is an automated system aimed at improving the National Health Insurance Scheme service delivery at the FMC using ICT. "PATEXP manages a central database of NHIS beneficiaries and integrates all other patient touch points involved in service delivery. Each service touch point has a specific menu of interactions, accesses information as needed and enables automatic reporting of services rendered.
"The system also streamlines drug pricing, reporting and billing to their associated Health Management Organisations (HMOs).
High quality service
The system will aid FMC staff and enable them to focus on delivering high-quality services to NHIS beneficiaries instead of processing paperwork.
Samuel said apart from aiding staff, the system improves  beneficiaries' overall experience as they focus on getting the service they need, avoiding unnecessary paper chase.
Final-year project
The work was their Senior Design Project (SDP), a final-year project expected of every student before graduation.  Said Samuel: "This is a testimony to our belief in the learning that we have had at AUN,to put us in a position to contribute to, and impact our community."
Zidafamor said that in AUN, they were taught to study not merely for the grades but for the knowledge. "We are glad that this learning has come through, and now we have an application we developed being accepted by working professionals."
The duo demonstrated the new NHIS PATEXP system to the major stakeholders, including the Chief Medical Director (CMD) and department heads of the FMC.
The project supervisor and Chair of the Software Engineering program, Dr. Ferdinand Che, said that "as a development university, AUN reaches out to understand the needs of the community, and meet challenging problems in a cost-effective and sustainable way. It is an opportunity to connect academics and the real world. As an instructor, I am sitting right in the middle of this engagement model. Our approach is to mentor our students by having them solve real world problems."
Emmanuel and Samuel helped in installing, training the users and maintaining the system.
The CMD of FMC, Dr. Mohammed Abubakar, recognised AUN's role of impacting society. He thanked the university for its willingness to continue playing that role.
"When you have research ideas that impact the society, we encourage it. We are networking the whole hospital now, and we are reorganising the NHIS Desk. We are happy to partner with AUN. We appeal to you to integrate our IT team in the transition so that it will be easy for them to take over. "