Financial expert turned politician, Godwin Obaseki is the candidate of the All Progressives Congress, APC in the weekend election.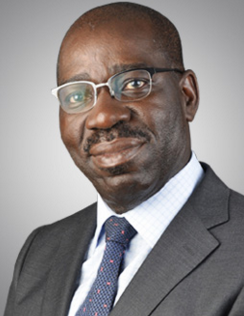 He has over the last eight years as chairman of the Economic Management Team of the outgoing administration been pivotal to whatever economic, nay infrastructural successes that have been achieved. His plan is to consolidate and move the state to a greater heights and hence his assertion that he is on a mission to bring economic prosperity in Edo State.
In an informal session, the former Chairman of the Economic Management Team of the Oshiomhole administration bared his mind.
On his purposes and plans, he said: ''Having been Chairman of the Economic and Strategy Team for the past seven and half years, I feel the responsibility not to walk away when the key issues that will shape our future are:
"Decline in revenue by the nation due to volatility in production and exchange rates threatens our fiscal sustainability;The arising need by states to look inward and diversify their economies
''Ability to take advantage of our natural resources and agriculture to create new economic activities; Access to investment capital to convert these resources into economically viable opportunities.
''Our Out-Growers' Scheme will target 40% of cultivated land to be owned and farmed by over 25,000 Edo Entrepreneur Farmers with off-take contracts to ensure that they sell their produce and generate wealth for Edo youth.
''Our Tractorise Edo Project will empower over 1,000 young entrepreneurs to acquire mechanisation and tractorisation equipment to support the farmland development with off-take contracts from the farm developers and our out-growers. This initiative will generate additional 4 to 6 jobs in the value chain to create additional 4,000 to 6,000 jobs.
''Within the first year in office, we will restructure and resolve all outstanding debt obligations with Bendel Brewery, Edo Line and any other State Owned Enterprise We will attract private capital into all State Owned Enterprises under privatisation
"We will also conclude ongoing efforts to complete and commission industries initiated by the PDP government but abandoned before commissioning including Uromi Cassava Factory and Fertilizer Factory in Auchi.''
''We will continue to support and will ensure the conclusion of all ongoing investment initiatives in the state including the Ossiomo Industrial Park, Atlantique Marine & Engineering Services Ltd (AMES) Pipe Mill and Coating plant and all other similar initiatives.
''We will focus on developing new Large and embedded electricity generation and alternative energy solutions to meet our increasing electricity demand gap.We will take advantage of the emerging electricity generation hub to create industrial corridors through the development of Industrial Parks across the State
''We will extend road networks to connect new areas not previously linked with the road infrastructure grid to facilitate the movement of people and produce to markets. We will identify the most disadvantaged neighbourhoods in the state and those at the greatest risk of flooding and channel resources into building necessary infrastructure to cater for their needs.
''We will also determine the most accident-prone areas and provide adequate safety and traffic management solutions. In pursuit of our collective desire to develop a competitive knowledge economy, we will introduce the development of Broadband infrastructure into our road infrastructure and transportation network to build a more virile and mobile business and learning environment.
''We will redevelop the Ikpoba River valley projects not only to generate electricity but also as a source of water supply for industrial and domestic user. We will provide the enabling environment for women to achieve their highest potential by taking our initiative beyond the phase of empowering women to empowering society as a whole through the women-in-business
"Our plans to invest in our 8 Technical Vocational Education and Training institutions will create direct jobs for our youth through skills in Engineering, Building Technology, Agriculture, Food Sciences, Hospitality under entrepreneurship schemes or industry employment;
We will support at least 20,000 entrepreneurs over the next four years to stimulate the economy through Micro, Small and Medium Enterprises (MSMEs) development creating no less than 50,000 additional jobs.
"Our determination is to ensure that not only are salaries paid as at when due but we adjust our model from a minimum wage structure to a living wage structure where Civil Servants are not financially disadvantaged; Prosperity for Edo State must also necessarily include a better future for our children and happy retirement for our pensioners. We will clear all outstanding pension owed and ensure that Civil Servants receive their full entitlement immediately after they retire."