By Simon Egbebulem & Gabriel Enogholase
There was confusion in Benin yesterday after the Igie-Ohen, or Chief Priests endorsed the two leading candidates separately.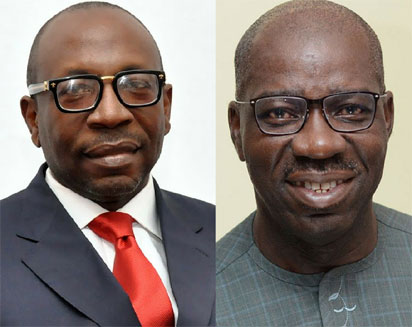 The chief priests had first endorsed the PDP candidate, Pastor Osagie Ize-Iyamu, and not long after also yesterday, endorsed the APC candidate when he came calling with the outgoing governor, Comrade Adams Oshiomhole.
The secretary of the Igie-Ohen, High Priest Osarumwense Amayo, speaking on behalf of the leader of the group when Pastor Ize-Iyamu called, said: "Though we are not politicians we know what is happening in our society, and we pray for the best."
Earlier, Pastor Ize-Iyamu who spoke in Benin language said that he was sad that eight years of the Governor Adams Oshimhole-led APC government has only served to under-develop Edo South.
Ize-Iyamu who said he is a true son of the soil, born in Benin, fathered by a former Esogban of Benin, Chief Robert Ize-Iyamu, some of whose contemporaries were among the gathering, expressed confidence that with the prayers of the Igie-Ohen Association, backed by the eligible voters of the state he would win the elections.
Not long after, the group also hosted a similar session for the APC candidate as High Priest Amayo also prayed for Obaseki who he said would be a perfect replacement for Oshiomhole.
Secretary of the Igie-Ohen, High Priest Osarumwense Amayo said, "on the calibre of your party's governorship candidate and his running-mate, they are seen to be square pegs in square holes."
On the forthcoming governorship election, he said, "as for the election coming in a few days time, we want to assure you that all will be well in the entire state."
Responding, Governor Adams Oshiomhole thanked members of the association for their continued support for his government.
He said: "I am very grateful to you, Chairman of the Igie-Ohen Association. I want to thank you for your support for my person, for my family and the government and your prayers over the eight years. Every year you have come to offer prayers, and it is obvious that God has answered your prayers otherwise I will not be here.