By Sola Ogundipe, Chioma Obinna & Gabriel Olawale
Is cancer treatment a mirage in Nigeria? This is the million naira question on the lips of health watchers in the country in the wake of the complete collapse of cancer treatment services nationwide.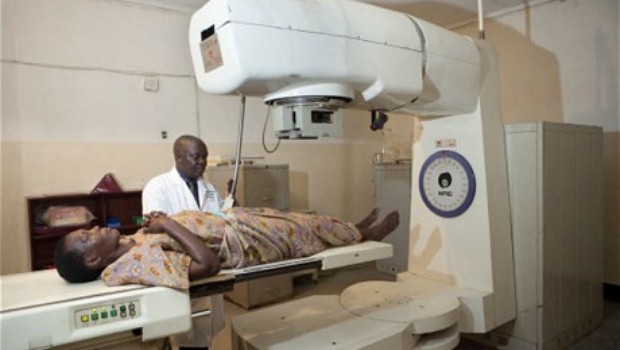 Findings reveal that in many countries of the world, particularly in the developed nations, cancer is no longer a death sentence, but looking at the current situation in Nigeria, the dreaded disease remains a death sentence.
But this may not have been the case if only more effort was put in place to protect lives from preventable death.
Experts say at least half of all cancer cases will require radiotherapy once during the course of treatment. But the current gaps in radiotherapy capacity to treat cancer in Nigeria portends dire future challenges.
In 2003, when the Federal Government, under the former President Olusegun Obasanjo, kick–started the N29 billion VAMED project, the promise was to refurbish 14 Federal Teaching hospitals across the country with state-of-the-art medical equipment.
Indeed, Nigerians heaved  a sigh of relief in the expectation that the move would help to check brain drain, discourage medical tourism, and treat all types of diseases including cancer and organ transplant, as well as help to improve the training of medical and health care professionals.
However, despite over 98 per cent completion of the first phase of the project and other efforts by government to improve healthcare in the country, complaints of poor staff attitude, high cost and inefficient services abound in some of the upgraded facilities. Nigerians are still not getting the needed health care services.
VAMED project
The VAMED Engineering Nigeria Ltd. was contracted to refurbish 14 Teaching Hospitals in the country, and the core clinical areas to be refurbished were radiology (diagnostics and therapeutic), surgery (theatres), intensive care, laboratories, accident and emergency and special clinical departments.
Eight Teaching Hospitals considered for the 1st phase included the Ahmadu Bello University Teaching Hospital (ABUTH), Zaria; University College Hospital (UCH), Ibadan; University of Port Harcourt Teaching Hospital (UPTH), Port Harcourt; and University of Maiduguri (UMTH), Maiduguri. Others were University of Nigeria Teaching Hospital (UNTH), Enugu; Lagos University Teaching Hospital (LUTH), Lagos; University of Ilorin Teaching Hospital (UITH), Ilori, Kwara state and the Jos University Teaching Hospital (JUTH), Jos, Plateau State. The six Teaching Hospitals in the 2nd phase were at the Universities of Ife, Benin, Sokoto, Kano, Calabar and Nnewi.
Of the 14 Teaching Hospitals shortlisted, seven were equipped with the new cancer treatment machines but over decade later, none of the machines is in good working condition. Cancer patients are still running from pillar to post.
Poor ratio
Information about the available radiotherapy centres in Nigeria, the types and number of radiotherapy equipment, imaging systems, personnel, and training capacity showed that in 2001, there were five radiotherapy centres with six megavoltage therapy machines, comprising five cobalt-60 machines and one linear accelerator.
At that time, the ratio then was one radiotherapy machine to a population of about 20 million. A decade and a half later, the number of available machine and facilities to persons is even more inadequate even as the dearth of trained personnel bites harder.
Now the number of radiotherapy machines is eight including a privately-owned machine at the EKO Hospital, Lagos. With one therapy machine situated in each of eight radiotherapy centres, it gives just a marginal improvement in radiotherapy service.
Vanguard gathered that radiotherapy, often referred to as the "Ferrari of cancer care", is a critical and inseparable component of comprehensive cancer treatment and care.
Major challenges
Unfortunately, findings show that epileptic power supply is one of the major cause of equipment collapse in these centres. It was gathered that series of power outages affected the machines.
Experts say these machines are sensitive to power fluctuations and for optimal use must be permanently on interrupted power supply.
But due to the haphazard nature of power supply in Nigeria, and inability of the hospitals to generate stable power on a 24 hour basis due to the high cost of diesel, it is expected that even if newer machines are procured, they would continue to face frequent breakdowns.
Maintenance is also an issue because most of the replacement parts of the machines and the required biomedical engineers to service them, are not readily available in the country. Most times these parts and the engineers are brought in from abroad.
Another challenge is the fact that the machines are already old and overused. Most centres have just one radiotherapy machine that could break down at any time. All these have rendered cancer management in Nigeria ineffective.
According to The Lancet in a study, common cancers in low-income and middle-income countries (like Nigeria), require radiotherapy for effective treatment, yet, in planning and building treatment capacity for cancer, radiotherapy is frequently the last resource to be considered.
As a new body of evidence, the Lancet study entitled: "Expanding Global Access to Radiotherapy", noted that there is compelling evidence that investment in radiotherapy not only enables treatment of large numbers of cancer cases to save lives, but also brings positive economic benefits yields substantial economic benefits.
The study reveals that the scale-up of radiotherapy capacity in 2015–2035 from current levels could lead to saving 26·9 million life-years in low-income and middle-income countries over the lifetime of the patients who received treatment.
It shows that the returns for low-income countries alone, by the human-capital approach, are projected to amount to $16·9 billion in 2015–35, and with the efficiency model, projected to amount to US$104·2 billion.
Modern machines
Modern cancer machines use a single dose of highly focused radiation, designed to destroy only the tumour and leave the surrounding healthy tissue undamaged. According to the experts, the expected lifespan of a linear accelerator is 10 years, and older machines are considered outdated and incapable of delivering modern radiotherapy techniques linked to better patient outcomes.
But the general belief is that moribund machines at the cancer centres should be replaced with modern machines such as The Gamma Knife machines fit for the 21st Century so that Nigerians can have access to the latest advanced radiotherapy techniques that target the cancer and cause less damage to surrounding healthy tissue.
Nigeria's peculiarity
In an interview with  Vanguard, a Consultant Paediatric Haematologist and Oncologist, at LUTH, Prof. Edamisan Temiye, emphasised that electricity is the major reason why these machines continue to breakdown.
"There is no reason why a hospital should have one radiotherapy machine in the first place. A serious hospital should at least have two or three machines so that when you relieve one and you maintain it, the other one would be in operation. When it is only one machine that continues to work for a long time, it will break down and the cost of repair is high."
Temiye stated that to get cancer treatment right, the first thing the country needs to do is to ensure that each centre has more than one modern machine of different types that can take care of cancer.
"The second thing we need to do is to tackle electricity problems. Like the ones we have in LUTH and other centres, you are not supposed to shut them down. They are supposed to work for 24 hours. Once you shut them down and restart you are causing problems for them. So electricity supply is a big issue. If we can get good electricity supply and then good maintenance, it will reduce failure treatments and improve outcomes as well as increase survival rates in the country."
He said LUTH has one of the best machines to treat cancer – the Linear Accelerator.
"The advantage the Linear Accelerator has is that if it is properly installed, it pinpoints the cancer and delivers the radiotherapy to the centre of the cancer. It does not radiate the areas around it. So it reduces the side effects and chances of the person developing another cancer."
Stating that most of the machines may have been due for change, he said: "Ideally these machines if it is abroad, after five years a new one should be brought in. They are actually sold on lease.
Nigerians should change the way they buy some of these machines. They should do a lease with the manufacturers, when they are having problems they will bring a new one in and they take the old one. I think Nigeria should look at this area."
Further, Temiye said: "There are many modern machines for cancer treatment unlike what is obtainable in the past when blind radiation were in use.  Now, most Linear Accelerators now streamline the radiation and come with a CT scan and this helps locate the tumour and map it out from the skin, shielding the surrounding tissues and organs from being radiated."
Temiye who also lamented that Nigeria lacks appropriate machines to diagnose cancer said:  "We had to send samples abroad most times.   For example, when you have cancer of the breast, it is supposed to be typed. We should know where it is coming out from and what tissue is it coming from and what is the best treatment for it. When you are able to diagnose cancer at the level of which cell it is coming from, you can now tailor your treatment towards that."
Also in a chat with  Vanguard, Founder of Children Living with Cancer Foundation, CLWCF, Dr. Nneka Nwaobi, who lamented the plight of cancer patients in Nigeria said: "Apart from the collapse of  radiotherapy machines, the high rates of foreign exchange is currently affecting procurement of oncology drugs.
"As it is today, no oncology drug is produced in Nigeria.  Nigerian patients depend on importation for their drug needs. Even getting the medicines from the companies is difficult. The situation has rendered most cancer patients helpless.
"Government should face reality and proffer lasting solutions to the problems.    If nothing is done many cancer patients may lose their lives," she added.
Also in a chat, Chairman, National Programme on Cancer Management, Professor Francis Abayomi Durosimi-Etti, who confirmed the situation, said there is palpable fear in the land over the fate of cancer patients with the complete breakdown of all radiation machines in the country.
"It is so sad, it is a pity and it is a shame and I actually feel ashamed because all over the world we have so many machines even in one hospital compared to all the faulty ones we have all over the country."
Durosimi-Etti said: The problem is that those machines are old and then we have this erratic power supply and third, the humidity and dust are not helping. This is because they require certain conditions to get them operate optimally. The Linear Accelerator needs a cooling system and this is something I believe can be fixed.
"The current situation whereby a patient with tumour commences treatment and the patient is now forced to suspend treatment because the machines break down and cannot continue elsewhere is not good at all.
"It will take about US$2 million to get a brand new modern machine while the upgraded Cobalt60 which is rugged and which we are used to will cost about a million dollars.
Management of cancer in Nigeria has remained a national scandal.  It is estimated that over 100,000 Nigerians are diagnosed with cancer yearly, while about 80,000 die from the disease. This brings the consequences of the cancer epidemic to 240 Nigerians every day or 10 Nigerians every hour, dying from cancer. The country's cancer death ratio of 4 in 5 affected persons is one of the worst in the whole world. The grim statistics above accounts for the earnest quest by the 8th National Assembly to urgently tackle the dire health challenge posed.