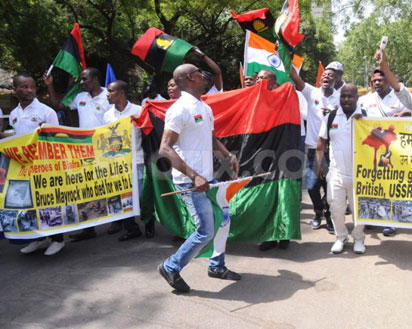 Biafra protesters
*As Uwazuruike accuses Britain of masterminding crisis in Nigeria
*BIM observes 17 yrs of agitation today
By Chidi Nkwopara, Nwabueze Okonkwo & Chinonso Alozie
OWERRI—A passionate appeal has gone to the United Nations, UN, to arrange and conduct a referendum soonest, to ascertain the willingness or otherwise of the people to be part of an independent Biafra.
The Owerri Zonal  leader of the Movement for the Actualization of the Sovereign State of Biafra, MASSOB, and a member of the organization's Elders Council, Chief Canice Anujuru and Chief Okechukwu Nwogu respectively, made the plea during a news conference in Owerri, to mark the 17th anniversary of the birth of MASSOB.
"Conducting this all important referendum for the independence of Biafra is long overdue. Biafrans earnestly await this exercise," Anujuru said.
While recalling that "the UN granted MASSOB observer status since 2000," Chief Anujuru also pointed out that "since then, MASSOB has been conducting its campaign for the independence of Biafra in a non-violent manner,"
He expressed regret that despite the group's non-violent posture, "the Nigerian government and its security agencies had mindlessly killed, maimed, arrested, detained and prosecuted several pro-Biafra agitators over the years."
The MASSOB leaders also warned that "until Biafran people are granted freedom, things will continue to go wrong in Nigeria."
On how MASSOB loyalists would mark the event, Anujuru said there would be rallies in every major town in Biafran territory, stressing that "the celebration will enable members appraise our gains and challenges."
Speaking also, Chief Okechukwu Nwogu regretted that "the bulk of the revenue used in running the affairs of Nigeria comes largely, from the Eastern Region."
While saying that the celebration will commence September 13, 2016, Nwogu however added that Biafra was all about the past and future of the people.
Uwazuruike accuses Britain of masterminding crises
Meantime, leader of Biafra Independence Movement, BIM, and founder of the Movement for the Actualization of Sovereign State of Biafra, MASSOB, Chief Ralph Uwazuruike yesterday reacted to President Muhammadu Buhari's statement that Nigeria will remain a united, indivisible entity.
Buhari had in a statement during his recent visit to Benin Crown Prince, Edaiken of Benin, Eheneden Erediauwa, declared; "please, sit down, reflect and remember what I said 30 years ago that there is no other nation like Nigeria. We will remain together because no matter where you go, the colour of your skin will be a problem for you."
But in a press statement issued on his behalf by BIM's Director of Information, Mazi Chris Mocha, Uwazuruike noted that although Edo State is not part of Biafran Territory, he disagreed vehemently with Buhari's statement on the ground that no amount of preaching of "One Nigeria" can save the country from breaking up the way the Soviet Union did.
Uwazuruike blamed Britain for the political and economic problems currently plaguing the Nigerian nation, adding that Lord Luggard when he discovered that the Fulanis were lazy people and that the resources being generated from the Niger Delta of Southern Nigeria could be used to administer the two protectorates (North & South), joined the two different entities together without seeking the consent of the people concerned.
BIM observes 17 years of agitation today
Also yesterday,leader of Biafra Independent Movement, BIM, Chief Raplh Uwazuruike  warned members against any violent procession as they  marks 17 years anniversary/existence of Biafra agitation movement  on Tuesday.
Disclosing this to news men in Onitsha, Anambra State, the BIM Religious administrator, Rev. Apostle Great Ezichukwu said that their leader warned that the anniversary should be peaceful, non-violent and should not be sit-at- home and therefore people are free to go about their normal business including traders and civil servants.
"The celebration does not call for violence because we started this struggle 17 years ago without violence."
He expressed satisfaction that the Igbo nation has realized why Chief Uwazuruike vowed to continue in the struggle to ensure the actualization of a sovereign state of Biafra adding "we have been marginalized for years in a country we are part and parcel of"
"Uwazuluikwe is satisfied with the efforts and contribution of the Igbos towards realization of a Biafra republic. Christians who are MASSOB members of the youth wing of BIM will have been observing two day prayer to ensure free celebration".