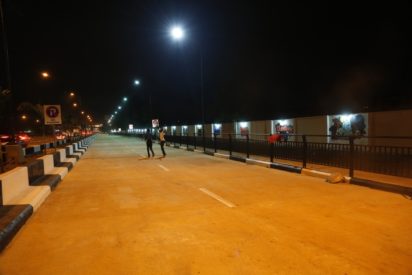 Newly built Slip Road at Alapere, Ketu by Lagos State Government commissioned on Saturday, September 17, 2016.
If you live in Lagos State and you have not been or heard of Surulere, chances are you live under a rock. A residential and commercial Local Government Area located in the state, Surulere is one of the most exclusive areas on Mainland Lagos.
Aside from the fact that Surulere is known as the sports city of Lagos seeing as it houses two international sport venues, some of the most famous streets in Lagos state such as Adeniran Ogunsanya, Adelabu, Ogunlana Drive, Bode-Thomas and Eric Moore, are found within the district.
If you are a lover of Nigerian music or you are active on the Nigerian social scene, you may have heard lines and comments affirming Surulere as one of the best places to live in Lagos. And if you are wondering why the district is so acclaimed, we at Jumia Travel share 5 possible reasons Surulere is the best place to live in Lagos.
It is mid-point
Surlere is undoubtedly one of the key transport nodes of Lagos, as it connects the city's mainland with Lagos Island and Victoria Island. Basically, it serves as a mid-point between the island and mainland and living there ensure you have quick and easy access to both areas.
Diversity
Surulere is full of ALL types of people. Young families, Grandparents, Politicians, struggling musicians, millennials, students, Igbo people, Hausa natives – you name it, they all live in Surulere and they all love it. It is very easy to fit into the different neighborhoods within the district without fear of segregation or any form of culture shock.
The best street food in Lagos
It is no secret that the best of Lagos street food can be found in Surulere and at the best rates too. On the hunt for the best shawarma, to the best Suya, people travel from as far as the Lekki Peninsula to Surulere for a palatable and affordable taste. Surulere also has more local independent restaurants and bukkas than it is possible to choose from, and you most rank very highly among the best places to eat authentic meals in Lagos.
Surulere is full of independent businesses
Aside from restaurants and bars, there are so many businesses, in all sorts of industries, based in Surulere. You will find Clothing stores, Interior Design boutique, car dealers e.t.c among other business in this district, and not only will you be spoilt for choice when it comes to buying locally but there are plenty of opportunities for jobs too. The most popular street in the district that harbors some of these independent businesses is Adeniran Ogunsanya. There is literally nothing you cannot find on the street and all are of good quality too.
Active nightlife
You will never be bored at night if you live in Surulere. There is a load of great bars, lounges, and pubs…and most importantly, there is good security in most of the areas. You find clubs where you can stumble along to for a dance on a rogue Tuesday night, as well other bars that open from 10am to 4am every single day including Sundays.