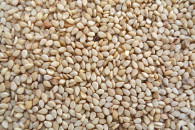 ABUJA—THE Small and Medium Enterprises Development Agency of Nigeria, SMEDAN, has commended the Federal Government for promoting increased sesame seed production to broaden revenue generation base in line with the diversification of the economy.
The commendation was made by the Director-General, SMEDAN, Dr. Dkkio Radda, at the official flag-off of 2016 Sesame Seed Planting and Sesame Seed Manual/Business Plan in Sokoto, Sokoto State.
Radda, who was represented by the Director, Engineering Technology and Infrastructure, Engr. Abu Ozigi, described the initiative by the Ministry of Trade and Investment, United States Agency for International Development and Federation of Agricultural Commodity Association of Nigeria, as a step in the right direction to create employment and revenue generation.
Radda said: "The country is now confronted with the obvious need for a paradigm shift that will pursue proactive diversification and speedily too, in order to make up for the lost opportunities in recent past.
"In pursuing this cause, the promotion of agro-allied businesses (and other non-oil sectors) is the sure way to go.
"Considering the tremendous potential of sesame seed production in Sokoto State, the choice of Sokoto as the venue of this official flag-off is understandable. Moving forward, what is required is to pay the needed attention to high quality processing adequate for local consumption and export."