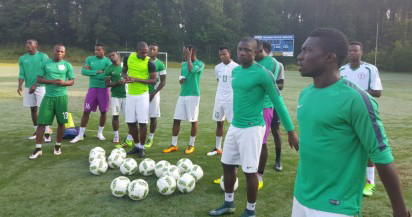 Nigeria's Rio Olympic team training
The U-23 Olympic football team were still stranded in Atlanta lastnight after last minute efforts to pay for a chartered flight failed.
But the Presidency disappointed with the shoddy works of the Sports Ministry was making last minute arrangement to dispatch a Presidential Jet to airlift the team from Atlanta to Manaus in Brazil.
The Nigerian team will play Japan in their first match today in Manaus which will be early morning on Friday in Nigeria. The flight from Atlanta to Manaus is about 7 hrs and jet-lag cannot be ruled out. This is  enough trouble for the team.
''We're still here in Atlanta, but we've been told a Presidential flight is on the way from Lagos to save us from endless waiting here'', a source in the team told us.
The Olympic team were headed to the airport for their chartered flight but were told that Nigeria had not paid.
''Bros, we're all tired. Every day they tell us to get ready and pack our bags. We'll end up unpacking the luggage'', one of the exhausted players complained.
Another player added; ''We've been told to get ready to fly out in few hours but that's been the story since last week. Our training has been distorted, and our morale has gone down. This is the worst arrangement I've seen since I started playing for the national team''.
Sports Vanguard gathered that efforts were still on for the initial arrangement to use a chartered flight if the money hits the account of the airline. But it was clear that the Ministry had failed woefully, subjecting the Olympic team to international disgrace. Foreign media have been painting a horrific picture of the Nigerian team in Atlanta which is a big minus for the Buhari administration.
However a team source said at about midnight in Nigeria that they were at the airport hoping to fly the chartered flight and that there was no longer need for the Presidential jet.
Nigeria are in Group B of the Rio Games alongside Sweden, Colombia and Japan.